Join Center for Independent Futures for a biking experience like no other at MB Bike the Drive. On May 28, Chicago's Lake Shore Drive will be closed to cars, leaving eight lanes available to bikers. Watch the sun rise over Lake Michigan and take in stunning views of the skyline as you soar down the open road.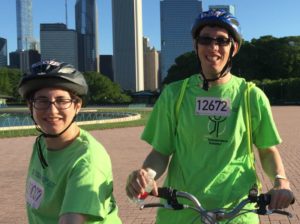 When you ride with Center for Independent Futures' Dream Team, you'll be part of a team of individuals with and without disabilities, including participants, staff, board members, and friends. Our team members participate in this incredible event and raise funds for our programs and services in honor of their ride. Center for Independent Futures makes it easy to participate by supporting riders to sign up for the event, helping with fundraising, and taking care of transportation logistics on the day of the event.
We offer incentives for different levels of fundraising, like a refund of your Bike the Drive registration fee and tickets to our annual events. All funds raised by our dedicated riders support Center for Independent Futures' vision of a future where individuals with disabilities have access to all opportunities of a full life.
To learn more about Bike the Drive and join the Dream Team, contact Niki Moe at (847) 328-2044 or nmoe@independentfutures.com.