When summer finally comes to the Chicago area, we all have to maximize the fun we have in the sun. Now that temperatures are finally rising, it is time to get outside and see all our friends in the community. Whether you and your friends are ready to hit the beach or go for a long bike ride, the one thing most of us can agree on is BBQs.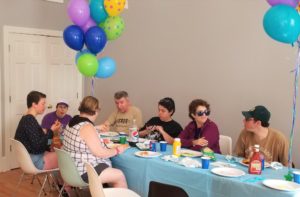 That's why our Advisory Council put together Center for Independent Futures' first annual Backyard BBQ. At Hub 930, members of the Advisory Council gathered with community members, staff, our Board of Directors, and family members. We had a great afternoon together, complete with refreshing beverages and satisfying meals.
Board of Director co-chair Ira Mitchell acted as our grill master, flipping burgers and hot dogs with ease. Members of the Advisory Council helped Development Director Niki Moe Horrell prep the rest of the food, including fruit, veggies, and – of course – delicious desserts. By the end of the BBQ, there was almost no food left – a sure sign of a successful cookout!
The Backyard BBQ was an opportunity for the Advisory Council to work as a group planning, organizing, and decorating for a fundraiser entirely their own. Many members of the council help set up for other events at Center for Independent Futures, like SPARK, but this was the first fundraiser the group planned.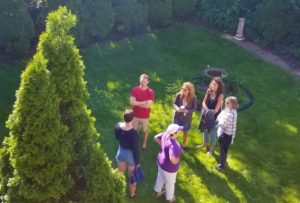 Niki says, "Our first annual Backyard BBQ was so much fun! The Advisory Council did so well planning and prepping for the event." There was plenty of food for everyone, and all the brightly colored decorations were perfect for a summer event.
We are already looking forward to the second Backyard BBQ next year. We plan to make this an annual event where everyone is welcome. Hope to see you all next time!