Chicago's bikers are getting special treatment on Lake Shore Drive in just 53 short days! On May 27, the city is shutting down Lake Shore Drive to all vehicles for bikers to ride between the Museum of Science and Industry to Bryn Mawr on what we all hope will be a gorgeous Sunday. Bike the Drive 2018 is a wonderful opportunity to experience a piece of Chicago that most of us don't get to see very often.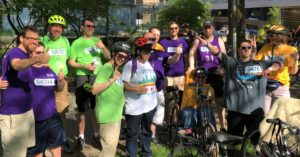 Center for Independent Futures Dream Team is riding again this year! Many of our bikers are riding to raise funds to support our mission: creating innovative service models that support individuals with disabilities in living full, independent lives. Like past years, you and your friends have the thrilling opportunity to ride alongside our vibrant community of bikers. All you need to do is register for Bike the Drive.
Once you have signed up for Bike the Drive 2018, you can make yourself a member of our fundraising team through CrowdRise, a site that hosts fundraisers for nonprofits. Signing up is easy, but if you need any help, please reach out to us.
Want to participate, but know biking isn't really your thing? You can donate to Center for Independent Futures' team directly, or you can donate to the account of one of our participants on CrowdRise.
The most unique bike ride of the year awaits — register today and then add yourself to our CrowdRise as a member of Team Center for Independent Futures!
For more information about this event, email Jeff Morthorst or call our Evanston office at (847) 324-2044.