Summertime means camp, and for Center for Independent Futures, camp means opportunities to learn life skills and make connections. For the seventh year, we partnered with Evanston Township High School to host Life Tools Camp for eight students from the Transition House.
What Happens at Life Tools Camp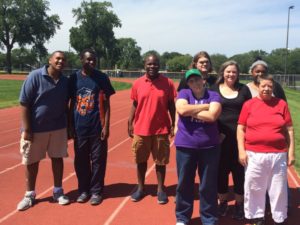 "Evanston is rich in community resources. We want to introduce students to resources so they can learn about opportunities," explains Sharon Purdy, a member of Center for Independent Futures' Schools Team.
Camp began on Tuesday, starting with campers sharing hopes and dreams through collages and presentations. The rest of the week included tours of the YMCA and the Ecology Center and a walk through the Skokie Northshore Sculpture Park. In downtown Evanston, the group did a scavenger hunt at local businesses, and at the Evanston Public Library, the librarians helped campers find books, music, and movies. To get around the city, campers used Ventra cards to travel by CTA bus.
"Our week was full of new experiences, both at the Transition House and in the community," Sharon says. "While we spent the week together participating in common activities, each of us achieved some of our own goals."
Achieving Hopes, Dreams, & Goals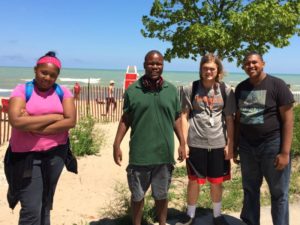 One student's goal was to share a meal with his peers, which he achieved when he cooked lunch for the group. Another camper wanted to be supportive of others, and he spent the week being encouraging and helpful to his fellow students. A returning camper used skills he learned last year to achieve his goal of taking public transportation home from camp every day.
All of the campers learned to express their hopes and dreams and had the opportunity to reflect on their goals for the future. One of the campers discovered that he wanted to work in a kitchen. Through camp activities, he learned about jobs available in his interest area.
Grateful for Community Support
Thanks to all the Evanston resources that welcomed our campers this week and to Evanston Township High School for partnering with us. In addition to hosting camp, Center for Independent Futures and ETHS work together to support students with disabilities to learn skills and plan for the future. To learn more about our work in schools, click here.