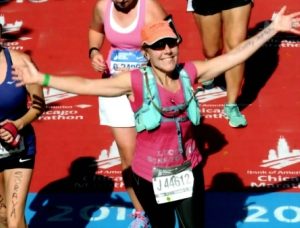 On October 8, nine members of the Center for Independent Futures community will collectively run over 230 miles to support hopes and dreams. That day, Team CIF will join 45,000 runners to take on the Bank of America Chicago Marathon while raising funds and awareness to support individuals with disabilities and their families.
Over the next four months of training, our runners are making their miles count. To honor the hard work our runners will undertake on this journey, you can support Team CIF by helping them along the way to their fundraising goal. Visit this link and click on the red button on the right that says, "Donate to this fundraiser." You can also visit the runners' individual fundraising pages by clicking on names listed below.
All of the funds raised by Team CIF help Center for Independent Futures continue creating innovative solutions for individuals with disabilities and their families. To learn more about supporting Team CIF, contact Elizabeth Male at (847) 328-2044 or emale@independentfutures.com. Thank you for helping our dedicated team run for possibilities!
Team CIF 2017
Nick Connell
Richard Koenig
Sharon Koenig
Megan Madigan
Elizabeth Male
Pattie O'Leary
Alexandra Swift
Alyssa Thiem
Taryn Westra