About a year ago, eighteen members of our growing community signed up for the challenge of a lifetime: running the Chicago Marathon. On Sunday, October 7th, our charity team completed this challenge, bringing home their medals and accomplishments. The Bank of America Chicago Marathon charity team raises funds for their respective charities in return for guaranteed entry to the race, and Team CIF did not disappoint!
Race Day Nutrition: Pasta Party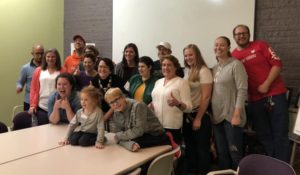 On Friday before the race, we hosted a pasta party for our runners. Courtesy of Olive Garden at Lincolnwood, the runners were able to fill up on pasta, breadsticks, and salad in order to carb load before the big day.
Several members of the marathon team joined us, including some families, and we were joined by staff, Community Builders, and participants as well. We love hosting this pasta party for just this reason. It's the perfect opportunity for the runners to meet our loving community and see who their fundraising supports.
Charity Block Party Cheer Team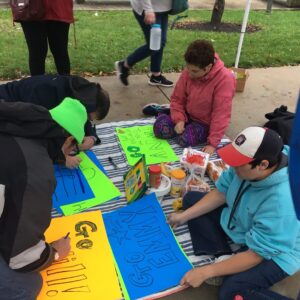 On Sunday, while the team got ready to run, six participants and a few staff members got ready to cheer them on! We set up a tent and made signs for the runners on mile 14 along the Charity Block Party.
As runners passed, we offered them carbs in the form of pretzels and mini bagels, plus sugary energizers like gummy bears. When our team members ran past, we cheered as loud as we could! It was a long, rainy day in Chicago, but we didn't let that stop us from supporting our wonderful 2018 Bank of America Chicago Marathon charity team!
Still Time to Contribute to Team CIF!
The team set a goal of raising $1,000 per runner, and by Monday morning, they had raised $13,657! That's 76% of the team's $18,000 goal! But you can still help push them over the edge. The team has until November 30th to raise the last bit of their funds. You can donate to the team on their CrowdRise page.
We also have one more team fundraiser this week! On Tuesday, October 9th, you can visit Potbelly from 5:00-8:00 to donate 25% of your purchase to Team CIF. All you have to do is go to the Potbelly at 630 Davis St. and tell your cashier you want to support Center for Independent Futures.
Always Wanted to Run a Marathon?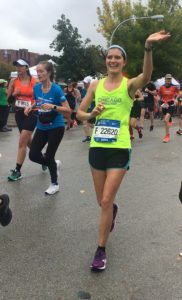 You're in luck! Team CIF has been granted another 18 slots for our 2019 Bank of America Chicago Marathon charity team! We walk our marathon team through each step of the process, including monthly check-ins throughout the year and tools for fundraising. Plus, you get access to our team pasta party, a group of folks cheering you on, and the opportunity to be part of this wonderful community.
Contact Connor Larsen at clarsen@independentfutures.com or (847) 328-2044 to learn more.