Thanks to an opportunity from two student groups, members of the Center for Independent Futures community got to share their insight and experiences with Northwestern University students earlier this month.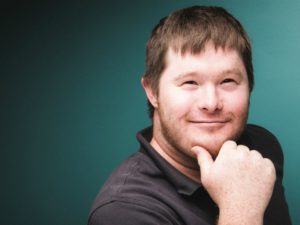 Participant and Advisory Council member Matthew LaChapelle and Executive Director Ann Sickon sat on a panel about understanding and supporting individuals with disabilities. The panel also included the director of Northwestern's Accessibility Office, a Northwestern student, and a representative from Gigi's Playhouse, a nationwide organization that supports individuals with Down Syndrome. The event was hosted by Northwestern University Dance Marathon, which is supporting Gigi's Playhouse as its primary beneficiary this year, and Beyond Compliance, a student group that advocates for students with disabilities.
Matthew shared his experiences living and working in the community, including wisdom from "Back to the Future": "You make what your life is right now, and you make your own future."
"It touched my heart to talk about what I've been through," Matthew said.
Matthew, an actor who has two jobs, enjoys speaking about his perspective to contribute toward increased disability awareness and inclusion. He served as the first mentor for younger campers at a camp in Colorado for individuals with Down Syndrome and hopes to have future opportunities to support others facing challenges similar to those that he's overcome on his path to a full, independent life.
"Matthew did a wonderful job," Ann said. "The comment he made that I thought was one of the most insightful moments of the evening was that the needs individuals have aren't necessarily 'special,' they're just the needs that they have to participate."
Thanks to the community engagement of individuals like Matthew and their work to change perceptions about what's possible, more individuals with disabilities will have full access to their communities.