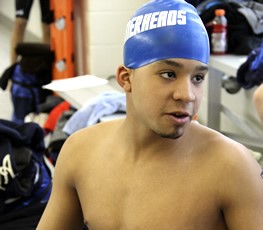 In partnership with Evanston CASE, Evanston Public Library is presenting a free showing of the award-winning film Swim Team. You can catch the film on April 25th at 7:00 pm, with doors opening at 6:45.
This film asks the question, "What would you do if your community gave up on your child?" The parents featured in Swim Team took matters into their own hands, creating a swim team for boys with autism.
Follow the team's journey, from recruiting a diverse team to training for competitions. The film tells the story of the team as they struggle and triumph together. During the showing, you will see a group of teens with autism who are achieving independence, inclusion, and pride in the face of adversity.
Described as "probing, honest, and uplifting," Swim Team has been shown at over 50 film festivals and has won more than 10 awards. With a moving quest, this film shows what it means to create an inclusive community, even when the larger community around you isn't inclusive on a broad scale.
For more information about the film viewing, contact CASE at mail@evanstoncase.org.