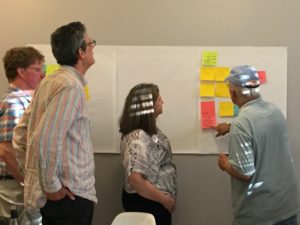 On Tuesday, May 16, Center for Independent Futures returned to its origins by hosting a conversation of families around a table. For the fourth year, we participated in Chicago Community Trust's On the Table initiative. This regionwide movement gathers individuals for important discussions about how to strengthen communities.
Our conversation over dinner focused on creating natural supports for individuals with disabilities and forming the relationships that help sustain full lives into the future. The group was made up of staff members and parents, including members of our Board of Directors.
Led by Northwestern professor emeritus Dr. Paul Arntson, group members brainstormed ways their loved ones with disabilities are involved with community. Themes in the conversation included the importance of both intra- and inter-community relationships, reciprocity, and the power of volunteerism as a basis for friendships.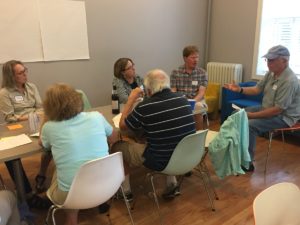 The conversation will guide our work in future efforts like our Community Connectors and Bridge Builders Project, which grows individuals' personal networks by connecting them with community members who share their interests. We're grateful for the insights of our community and look forward to hosting another discussion next year. For more information about On the Table, visit www.onthetable.com.