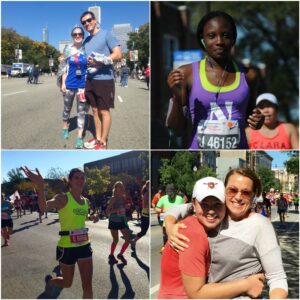 Of most common exercises, running can wreak the most havoc on a person's body. As your feet strike the pavement, the shock of impact travels up your leg, affecting the delicate bones in your feet, putting stress on your knee joints, and invoking pain in your hips.
But that isn't stopping our team of 18 Chicago Marathon runners. Mile after mile, our team members will be running for the hopes and dreams of individuals with disabilities who hope for a future where they can live independently. Our runners have been working hard all year to prepare for a 26.2 mile challenge. In the final stretch for marathon runners, they need your support.
Here's How You Can Help
Help the team reach their fundraising goal of $18,000! This is our biggest goal yet, and our runners need your help!

Go to CrowdRise

and click the big red button on the right side to donate. You can also donate to individual team members by clicking on their name at the bottom of the page.

Let our runners know they have your support! If you have run a marathon before, or if you want to share encouragement, let the team know. Reach out to Connor, and she will pass on your words of encouragement to the team. Knowing you appreciate their hard work and dedication may be the boost they need to keep going!
Join us at the Charity Mile Block Party! Cheer on the team with Center for Independent Futures participants, staff, and Board members as our runners pass Mile 15. The Cheer Team enjoys breakfast and camaraderie – let Connor know if you want more information about joining us at the Block Party.
Ready to Join the Support Team?
If you have any questions or ideas about supporting the final stretch for Marathon team, call the office at (847) 328-2044 or email Connor today!