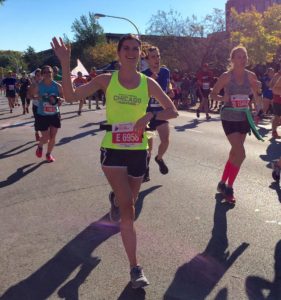 When running has been part of someone's life for a long time, the next logical step might seem like completing a marathon — 26.2 miles of feet hitting the pavement and sweat dripping down your face. A ton of hard work goes into getting ready for a marathon. You might find yourself asking, "Why would anyone put themselves through a marathon?"
A familiar face many members of our community will recognize has an answer. Elizabeth Male began running at about age 10, and she completed her first half marathon in high school. She completed her first Chicago Marathon in 2012. This experience running leads you to believe she has always loved the sport, but Elizabeth used to hate running.
It wasn't until she was in college that she started to enjoy running. "When I ran in college, it helped me balance my mental health and de-stress from classes," Elizabeth says. This will be Elizabeth's sixth time running the Marathon, partly because she enjoys the challenge but also because of the community she has developed.
Running the Chicago Marathon
In 2014, Elizabeth ran the Chicago Marathon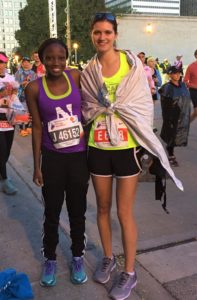 as part of Team CIF for the first time. The introduction of the lottery system meant she could secure guaranteed entry to the race by running for a charity. Luckily, Elizabeth had access to a great team at her fingertips. She took over planning for the team and decided to join the team to help with motivating other runners.
For Elizabeth, running as part of Team CIF is about the community she is part of. This year, she made the commitment to run the marathon before leaving her job at Center for Independent Futures. It has been an exciting way for her to remain involved after finding community. Elizabeth says, "I miss everybody, and I'm happy to be able to stay involved."
Tips for Fellow Marathon Runners
One of the team's most experienced runners, Elizabeth has advice for team members, plus anyone interested in joining next year. "The journey will be full of hard work, but it's about achieving a challenging goal." While having more experience running long distances might make this race less daunting, Elizabeth avoids falling into a trap by remaining motivated. No matter how many marathons she has run, Elizabeth needs to do the work like everyone else.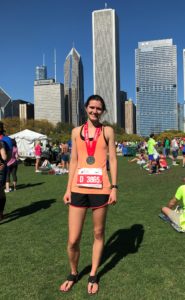 At the moment, Elizabeth is training for a race in July, and then she will begin preparing for the Chicago Marathon. She is looking forward to the race, especially getting to the Charity Mile, where our core group of participants and friends will be waiting to cheer on Team CIF! You can help Elizabeth meet her $1,500 fundraising goal by going to her CrowdRise team page and clicking the big red "Donate Now" button.
If you are interested in joining the 2019 team, reach out to Connor Larsen at (847) 328-2044 or by email. It's never too early to think about your own hopes and dreams!