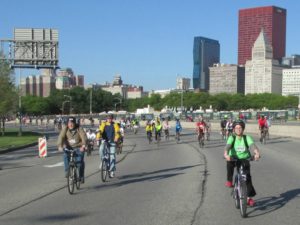 Before dawn on Sunday, May 28, Lake Shore Drive will become a quiet expanse of pavement, emptied of cars. When Bike the Drive 2017 begins, thousands of cyclists will fill the road to enjoy beautiful views of Lake Michigan and the Chicago skyline. Though the sights are stunning, some riders are hitting the street for more than a nice view.
Bikers representing Center for Independent Futures' Dream Team will ride to raise funds for our mission: creating innovative service models that support individuals with disabilities and their families to live full, independent lives. The Dream Team has a goal to raise $10,000, and our riders need your support.
The team is a community of adults with and without disabilities including participants, staff, and other community members, many of whom are riding with us for the sixth year in a row. They'll gather in Evanston before sunrise and travel to the city together for the ride of a lifetime.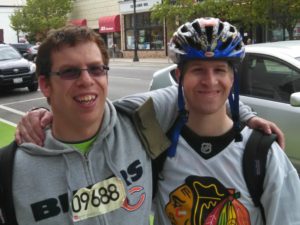 Our bikers are busy training, spreading the word, and getting their bikes tuned up. To support our riders, visit the Dream Team's Crowdrise online fundraising page at this link. You can donate to the efforts of individual riders by clicking on the photos toward the bottom of the page, or support the entire team by clicking on the orange "Donate to this fundraiser" button.
To learn more about the Dream Team and how to support our riders, contact Niki Moe at nmoe@independentfutures.com or (847) 328-2044.