Are you looking for a new way to give back to your community? Center for Independent Futures is seeking support for our growing activities program.
Our activities offer individuals with disabilities opportunities to gather with friends, make connections, and explore new interests. From social events to cultural outings, our activities are planned with input from the community and facilitated by staff. Volunteers will assist the staff facilitator to guide groups and provide encouragement and companionship to participants.
We need support with activities like our Art Club, bowling, Restaurant Practice Night, Saturday Cinema, Social Hour, and other seasonal or special events. Activities are held during afternoons, evenings, and on weekends.
How to Become a Volunteer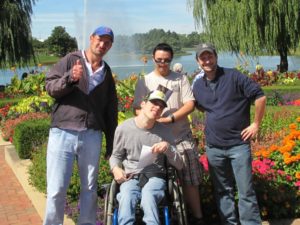 Volunteers don't need to have any particular skills, but should be patient and interested in supporting people with disabilities in an adult-to-adult manner. If possible, volunteers will commit to working with our community for a year. Volunteers also consent to a background check.
Does this opportunity sound like a good fit for you or someone you know? To find out how to get involved, contact our Activities Director, Jeff Morthorst, at (224) 545-3925 or jmorthorst@independentfutures.com