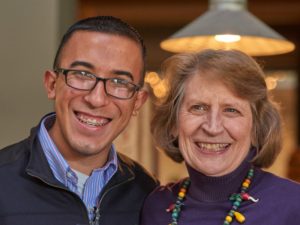 On November 12, join Center for Independent Futures for eats, sweets, and sips at the Woman's Club of Evanston. Our fourteenth annual Something's Cooking features new restaurants, our favorite bakeries, and, for the first time, local breweries and distilleries.
FEW Spirits will serve tastes of their handcrafted, small-batch spirits. Two Evanston breweries, Sketchbook and Temperance, will sample craft beer, joined by Chicago's Revolution Brewing. Alongside these beverages, guests will enjoy food from Evanston favorites like Edzo's Burger Shop, Bagel Art Cafe, and Celtic Knot Public House. Farm-to-table fans will be treated to bites from Farmhouse, Ten Mile House, and Peckish Pig, while those seeking international flavors can try menu items from Koi, Flat Top Grill, La Macchina Cafè, That Little Mexican Café, and Trattoria D.O.C. And Center for Independent Futures' own block will be represented by Davis Street restaurants LuLu's, Gigio's Pizzeria, Yeero Revolution, and Table to Stix Ramen.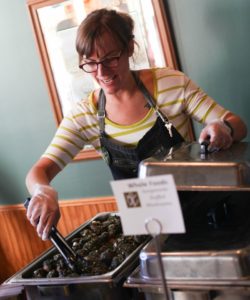 With one ticket, you'll have the chance to try signature dishes from all fifteen featured restaurants, sips from four local breweries and distilleries, and a dessert display including offerings from Nothing Bundt Cakes, Eli's Cheesecake, and more. Check below for a full menu of this year's flavors.
All funds raised at Something's Cooking support our mission to give individuals with disabilities and their families access to the opportunities of a full life. To get involved in Something's Cooking by volunteering or contributing to the silent auction, contact Niki Moe at (847) 328-2044.
Here's the complete lineup for November 12:
Bagel Art Cafe
Celtic Knot Public House
Edzo's Burger Shop
Eli's Cheesecake
Farmhouse
FEW Spirits
Flat Top Grill
Gigio's Pizzeria
Hearts & Flour Bakery
ILOVESWEETS
Koi
La Macchina Cafè
LuLu's
Nothing Bundt Cakes
Peckish Pig
Revolution Brewing
Sketchbook Brewing Company
Table to Stix Ramen
Temperance Beer Co.
Ten Mile House
That Little Mexican Café
Trattoria D.O.C.
Yeero Revolution