This month's heARTwords spotlight features writers Jake Joehl and Jenna Hardacre. HeARTwords writing workshop is a creative, supportive community of writers and volunteers who support each other to express thoughts and feelings while practicing communication and self-advocacy skills.
Jake and Jenna responded to two different prompts, both sharing how they get around their community. Read on below to find out more.
Jake Joehl
What most often gets in your way of accomplishing your goals?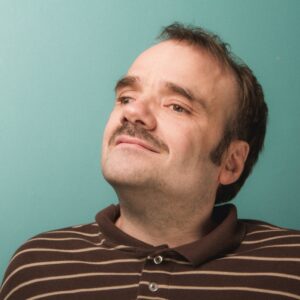 Not all of my goals have been hard to accomplish, but some of them have been a bit difficult. For instance, I have a goal to be more independent with transportation. This goal has been a bit difficult for me but not impossible. Several years ago I applied for ADA paratransit certification, and at the time this service was rather disastrous. To reserve a single ride, I or my mother had to get up at the crack of dawn on the day prior to my scheduled trip. So for example, if my trip was on a Saturday I or my mother would've had to phone in on a Friday morning. At the time there was only one reservation line, and it was only open for a half hour each morning. Often times the carrier would call back at suppertime, and inform us they were going to have to bump my ride times back or ahead of schedule. The drivers at the time would often get lost, and they had to ask for directions from the passengers. I felt uncomfortable doing this, primarily due to the fact that I cannot see anything but light and dark, but also because these drivers were the ones supposedly getting us where we needed to go.
But there have since been several improvements made to our ADA paratransit service, and it is now so much better than before. As a matter of fact, I took a paratransit bus here to the heARTwords workshop. Today's trip went very well. However, there is still the thought in the back of my mind that one of my drivers will get lost and ask me for directions to my destination. This would be "Destination Unknown!" When I took paratransit to my parents' house a couple weeks ago, my mother was kind enough to email me directions to get there. Keep in mind that I had not previously traveled to this place by myself. But as it turned out, I didn't need her directions because these drivers now have GPS devices in their vehicles.
Jenna Hardacre
Do you tend to follow the crowd or walk to the beat of your own drum?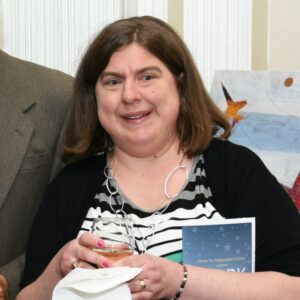 I like walking. Definitely, I like walking. I walked three miles today. See this shirt? 5K run and 3K walk. I can walk; I cannot run. I don't know why. Do you know why? Some people with disabilities don't run. Some people run by themselves. I like to walk.
I stopped for water. I was so thirsty. I should have brought my water bottle. It was so hot. There's the thing–I don't like people giving me hugs when I'm hot and sweaty. If people try to give me a hug when they're hot and sweaty, I give fist bumps.
I was dancing all day. I just want to take it easy tonight. Do you think I should take it easy tonight? My feet are really hurting. I'm gonna be sore. I took a nap on a chair, and I forgot what time it was. I was like "Wake up!" I can't believe I would wake up early for the race–4:30. I usually sleep in! Someone said, "Huh! Waking up at 4:30 in the morning?" I said, "I have to. I'm doing this for Susan. That's why I'm doing this."
We all miss Susan. I talked to Dr. M. at the Down Syndrome Center, they know me and Susan pretty well. They asked me how I was doing living alone. I miss Susan. Susan has two brothers, and I talked to one of them recently on Facebook. Susan's mom thinks I'm avoiding her. I'm just so busy. I'm not avoiding her. I'm just worried about my family. That's all I'm worried about. I can give her a call. I still have that number on my phone. I'm not erasing it. I'm not erasing it at all.
When I was at walking, I was wearing Capri pants. And then I did Zumba. We did songs by your favorite instructors. I don't do Thursdays. I just do Wednesdays. Kristen missed me a lot. She'd never seen me for a while. I've been working a lot. You know that. I saw her and she was pregnant. Nobody told me at all. They should have told me that. I think she's gonna be a good mom. I'm not sure if it's going to be a boy or a girl.