Every mile of the Bank of America Chicago Marathon is a chance to test your strength and achieve a dream. For runners on Team CIF, those miles mean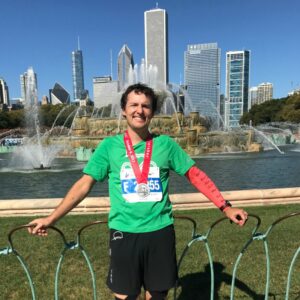 even more.
As an official member of the Chicago Marathon's Charity Program, Center for Independent Futures offers guaranteed race entries for runners who pledge to raise funds and awareness for individuals with disabilities and their families. Since 2007, Team CIF has raised over $100,000 by running for possibilities.
When you join Team CIF, you'll become part of a community that values all dreams and will provide you with one-on-one support along your path toward a dream of your own. During your weeks of fundraising and training, you'll engage with our dedicated staff, meet Center for Independent Futures community members, and see the difference your efforts are making. To read more about the benefits of being a Team CIF runner, click here.
The 2018 Bank of America Chicago Marathon is Sunday, October 7. Registration is open now, and guaranteed entry spots are limited. Contact Elizabeth Male today at (847) 328-2044 or emale@independentfutures.com to join Team CIF for the race of a lifetime.