The Bank of America Chicago Marathon is coming at us fast! Our eighteen person team is busy training and fundraising their $1,000 minimum, but we want to help them as much as we can! So we are hosting two fundraisers at restaurants in Evanston! Read more for the details..
Chipotle Fundraiser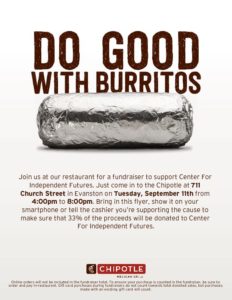 First up, visit the Chipotle at 711 Church St. in Evanston on Tuesday, September 11th! From 4-8 pm, you can buy dinner for yourself and your family or friends. As an added bonus, a whole 33% of the proceeds will benefit our Chicago Marathon team!
Bring in your phone with this post to make sure the donation goes to Center for Independent Futures. Show the cashier this flyer, and they will take care of everything else!
Potbelly Fundraiser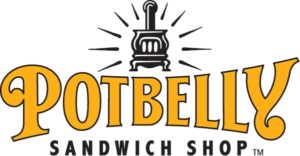 Then, on Tuesday, October 9th, Potbelly will be hosting a fundraiser to benefit the team just after the Marathon is over.  25% of the proceeds will be donated to our Marathon team's efforts from 5-8 pm. Visit the location at 630 Davis St. to participate!
Just mention the fundraiser, and you are all set! Potbelly will forward your support for our marathon runners!
What Other Ways Can You Support the Team?
Are you looking for other ways to support Team CIF? Check out this blog post where you can donate to our current team members, or put the Marathon on your calendar! We will be cheering on our runners from the Charity Block Party all morning, and we would love to have you join us!
If you are interested in running the 2019 Chicago Marathon, let us know! We will be looking for team members starting in late October or early November.
Want to find out more? Email Connor Larsen with your question, and she will get back to you as soon as possible.