By Sharon Purdy, School and Agency Consultant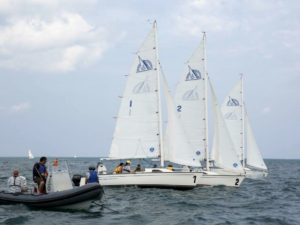 My grandfather's hobby was boatbuilding, and he made sure that we all knew how to sail. This favorite pastime filled me with confidence, strength and a love of a summer day on the water. As often happens, my pastime was set aside for other commitments. And, almost every day, I found myself thinking, "I'd love to sail again."
In my work at Center for Independent Futures, I have the privilege of supporting the hopes and dreams of individuals and their families as we plan for their full lives. We work together on living outside of our comfort zones, trying new experiences, and creating positive connections with others in our communities. And yet, I was not getting any closer to going to the dock to make the connections I'd need to get back on a sailboat.
Then I met Michael, my new sailing friend. Our first connection was at a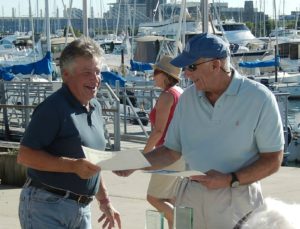 Center for Independent Futures Social Hour where I happened to sit down next to him. On that cold winter's day Michael and I talked about our common passion for sailing. He mentioned that he spends a lot of his summer time volunteering at the Judd Goldman Adaptive Sailing Foundation run out of Burnham Harbor. Michael has committed 17 years of volunteer service to this program that encourages fun and safe sailing and racing for people of all abilities. My mind was filled with visions of choppy water, the sound of lines against the mast, and the excitement of a fun day on the water. I left that day thinking, again, "I'd love to sail again."
Michael didn't forget! The next time I got to see him, Michael handed me a card with all of the contact information I'd need to get involved at his sailing program. He gave me the dates of the late spring volunteer training classes, and above all, he encouraged me to join him at the dock. Michael inspired and reassured me as I was feeling a bit rusty after all these years. Now Michael is my mentor at the Judd Goldman Sailing volunteer program.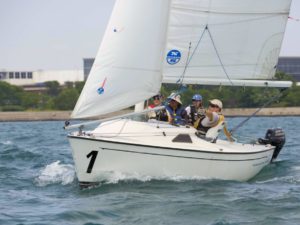 Often, individuals with disabilities are isolated and unable to access opportunities to explore their interests and talents. Center for Independent Futures works to create stronger networks with individuals to connect them with others, leading to healthier, happier lives. In this case, though, our typical roles were reversed. Michael supported me, introduced me to his fellow volunteers, and encouraged me to pursue a dream. Michael's generosity and supportiveness show that when individuals with disabilities have the chance to participate and contribute their gifts, the entire community grows stronger.
The Judd Goldman Adaptive Sailing Foundation supports people with disabilities to experience the joy of sailing and develop new skills. To learn more, call (312) 747-7684 or visit www.juddgoldmansailing.org.