Are you ready to get your bingo on? Join us on Sunday, July 1st at Hamburger Mary's for HamBINGO!
Hamburger Mary's, located in Chicago's Andersonville neighborhood at 5400 N Clark Street, offers an evening of risque, charitable fun. At Hamburger Mary's, you will find gourmet burgers, house-brewed beers, and an evening unlike any other in the city.
What is HamBINGO?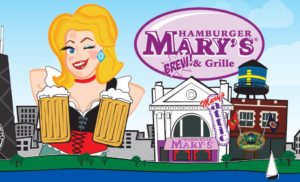 This isn't your grandma's church bingo: At HamBINGO, the numbers are called by in-house diva Honey Brown and can be a little outside of the box. Leave the kids at home and get ready for a fun night!
For $15, you can purchase ten games of bingo, and you will be able to play twenty games of bingo for $25. All of the proceeds from bingo and raffle tickets benefit Center for Independent Futures, supporting our vision of a future where individuals with disabilities have access to all opportunities of a full life.
Join Us at Hamburger Mary's
Tell your friends about this unique event, and invite them to come along! The more, the merrier we say – so come, drink, and be MARY with us July 1st at 8:00 pm. Find out more about the restaurant's offerings on their website, and contact Niki Moe Horrell at (847) 328-2044 for more information.
BLOG UPDATE 6/15: Hamburger Mary's now accepts reservations, so don't forget to let them know you are coming in on July 1st to support Center for Independent Futures!