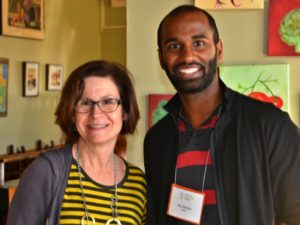 Center for Independent Futures' fourteenth annual Something's Cooking featured a new venue, new entertainment, and new menu items, for an updated version of a fall classic. We are grateful to all who helped make this festive afternoon a success!
Nineteen of the area's favorite restaurants and bakeries shared their signature dishes. Returning favorites included Koi, Edzo's Burger Shop, Farmhouse, Peckish Pig, and more. New this year were three restaurants from our block on Davis Street. Yeero Revolution served Greek meatballs and salad on a stick, LuLu's shared chilled sesame noodles, and Table to Stix Ramen featured tuna tartare. Check out the list below to see the complete menu!
To toast Center for Independent Futures' fifteenth anniversary, three local breweries and one distillery served samples of their products. FEW Spirits shared their small-batch spirits, while Revolution Brewing, Sketchbook Brewing Company, and Temperance Beer Co. all poured tastes of different beers.
The afternoon was complete with a dessert display and a silent auction, including Cubs tickets behind home plate, passes to a WXRT Studio X performance, and culinary-themed packages. To finish the event, Van Go Go, a collaborative of musicians with and without developmental disabilities played a lively set of their signature blend of reggae, roots rock, and funk.
Thank you the Woman's Club of Evanston for hosting this celebration in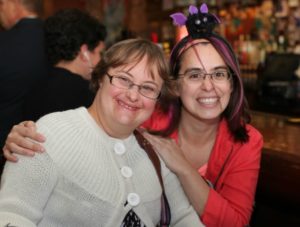 their beautiful, historic venue. We're grateful to the businesses who contributed to our menu and silent auction, to our volunteers for your time and enthusiasm, and to all of our guests who joined us for this celebration.
All funds raised by Something's Cooking support individuals with disabilities and their families to access to all of the opportunities of a full life. Click here for a complete album of photos from the afternoon!
Something's Cooking 2017 Menu
Bagel Art Cafe: Bagel Bites
Celtic Knot Public House: Mini Shepherd's Pie
Edzo's Burger Shop: Nutella & Pumpkin Pie Milkshakes
Eli's Cheesecake: Assorted Cheesecakes
Farmhouse: Butternut Squash Soup with Golden Raisin Pesto
Flat Top Grill: Chicken Pot Stickers, Chilled Edamame
Gigio's Pizzeria: Assorted Pizza
Hearts & Flour Bakery: Cookies and Bars
ILOVESWEETS: Assorted Shortbread Cookies
Koi: Vegetable Maki with Mango Sauce
La Macchina Cafè: Vegetable and Meat Lasagna
LuLu's: Chilled Sesame Noodles
Nothing Bundt Cakes: Assorted Bundt Cakes
Peckish Pig: Chorizo-Stuffed Bacon-Wrapped Dates with Blue Cheese Dressing
Table to Stix Ramen: Tuna Tartare
That Little Mexican Café: Barbacoa and Pork Tacos
Trattoria D.O.C.: Orecchiette con Spinaci
Yeero Revolution: Greek Meatballs and Salad on a Stick