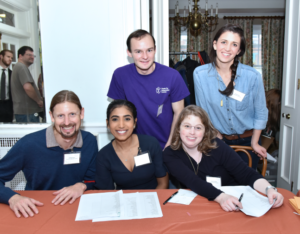 Thank you to everyone who came to support Center for Independent Futures at our sixteenth annual Something's Cooking celebration! From the music to the laughter – and, of course, the food – we enjoyed every last minute of the evening, thanks to all of you.
Wonderful Space and Support
This year's fundraiser was our second being hosted by the Woman's Club of Evanston. Their beautiful, historic building kept us sheltered from the rainy weather outside and made the evening a definite success. We couldn't have had such a wonderful evening without the help of their amazing staff!
Exciting Prizes to Take Home
Instead of a silent auction, we held a raffle this year, featuring eight grand prizes. From hand-painted Adirondack chairs and brand new bicycle to a weeklong stay at a cabin in the Great Smoky Mountains, these raffle prizes were items we definitely wished we could take home ourselves! After all, there's nothing like a great Cubs game in Chicago or a relaxing, therapeutic care package.
Congratulations to each of the fabulous winners! Of course, thank you to the support of all who purchased raffle tickets to play along with us on Sunday as well. Your support never goes unnoticed!
Good Food and Great Company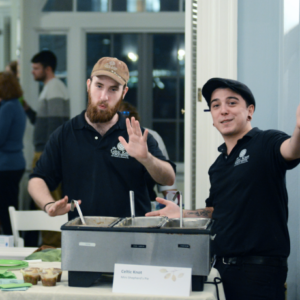 Last, but certainly not least, we want to thank all of our phenomenal restaurant, beverage, and dessert sponsors. Something's Cooking could not happen without all of you donating your delicious food, drinks, and time.
Did you miss Something's Cooking? Check out what these restaurants provided below, and make sure to mark your calendars early next year!
See You Next Year!
We are already looking forward to next year's Something's Cooking celebration when we get to spend another lovely Sunday afternoon with our favorite people! For now, we are getting ready for #GivingTuesday and helping our community give back. To join us, learn more at bit.ly/CIF2018GT.
Restaurant List
Bagel Art Cafe: Assorted Bagel Bites
Celtic Knot Public House: Mini Shepherd Pie
Edzo's Burger Shop: Nutella Shakes
Farmhouse: Baked Mac-n-Cheese
Firehouse Grill: Burger Bites, Veggie Sloppy Joe's, Chicken & Waffle Sliders
Flat Top Grill: Chilled Edamame, Pot Stickers
Gigio's Pizzeria: Sausage, cheese, and veggie pizzas
Koi: Vegetable Maki with Mango Sauce
La Macchina Cafe: Vegetarian and Meat Lasagnas
Lulu's: Cold Sesame Peanut Noodles
Peckish Pig: Bacon Wrapped Dates
Table to Stix: Truffle Pecorino Smoke Pickle Onion Salmon
Taco Diablo: Corn Esquite with Queso Fresco and Chilipiquin
Ten Mile House: Vegetarian Mediterranean Bruschetta
That Little Mexican Cafe: Shrimp Empanadas, Pork Taquitos
Trattoria D.O.C.: Orecchiette con Spinaci