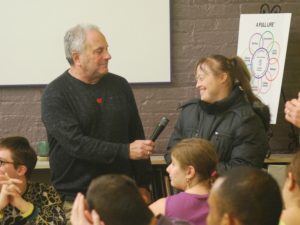 Starting this month, our blog will feature selections from the writers of the heARTwords writing workshop. At heARTwords, twenty to thirty writers gather to share themselves with the help of dedicated volunteers. HeARTwords is a community of emotions, courage, imagination, knowledge, experience, and heart.
Facilitators Barry Siegel, Paul Fields, and Joe Jackson lead the group to address topics ranging from current events to emotional issues, from humor to pathos, from magic and miracles to triumphs and tragedies. Writers contemplate love lost and love found, history, the future, and everything in between.
The facilitators encourage participants to share their communication skills and creative expressions outside of heARTwords, with family, friends, and other members of their community. This practice includes listening, questioning, and commenting. Self-advocacy is an integral part of living independently and being able to communicate with clarity, logic, passion, and focus are critical to its success.
Sarah Schechtman-Thale
You are a guest speaker at an elementary school and you're there to address a class of first-graders. What will you talk to them about?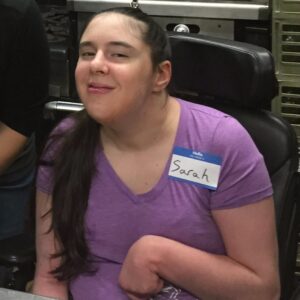 I would talk to the first-graders about my disability. Some first-graders think that you can catch cerebral palsy. I would tell them about the basics–what it is and how you get it, and that they don't have to be afraid to approach me. I would first tell them how I was born with it and how it was a result of my brain cells not being developed. I would tell them that there was too much oxygen coming at them too fast, so some brain cells died. I think that you can actually see those brain cells on a scan. They would be gray, and the other cells would be healthy. Most importantly, I would tell them not to let things hold them back. If I can do it, they can do it. Hopefully, I won't have kids timidly approaching me anymore after our talk.
Brian Reed
If your mirror could speak, what would it say?
When I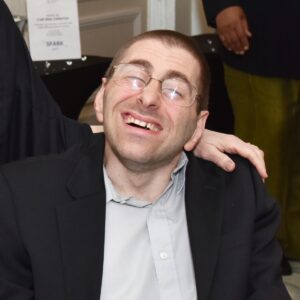 look in the mirror, I see my dad's face. He is saying "hi" to me. He says that he loves me and asks, "How is Vicki?" Vicki is my niece. He tells me that while he has been up in heaven, he has been thinking about me. He has been wondering how I am doing, and I tell him that I am doing OK. It is hard when people die, but I have been doing OK. I tell him that I wish he was still alive. I miss travelling with him, I miss birthday parties, and I miss talking to him on the phone. I miss visiting where he used to live as a kid. When I look in the mirror I also see Rosemary's face. I say to her, "I miss you, Rosemary." I miss going to breakfast. I also tell her that I am doing OK. Thank you for being part of my life, Rosemary. I wish that you, too, were still alive.