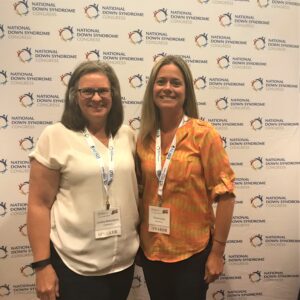 Center for Independent Futures hit the road again last month! Schools Consultant Chrissy and Community Life Coordinator Cynthia flew to Dallas in the middle of July. They faced the heat of Texas to present to the National Down Syndrome Congress (NDSC) Conference.
At the National Down Syndrome Conference, parents, self-advocates, siblings, and volunteers gather to learn from industry experts. Thousands of people come to the conference to hear the newest information in the field. Center for Independent Futures was honored to be considered a leader in the field at this conference.
"We were pleased when we were asked to submit a proposal to present at the NDSC," said Cynthia. "Our informative and interactive presented, 'A Roadmap to Hope: Creating a Circle of Support for Your Adult Sibling,' was well received." Cynthia also expressed how wonderful it was to reconnect with other groups who are using the Full Life Process™ around the country, like Club 21.
Explore the Full Life Process
Though we don't focus on labels here, we designed our Full Life Process to help anyone with an intellectual or developmental disability who needs support. It covers eight areas that encompass a full life, including home life, wellness, getting around, and more. The Full Life Process includes three crucial steps: planning, skills inventory, and skills training.
Those three investigative and planning steps help individuals work toward discovering their hopes and dreams – and then achieving them. After acknowledging obstacles, our process helps to develop action plans to develop necessary skills. We love sharing our Full Life Process throughout the country, providing schools & agencies with tools to facilitate person-centered planning.
Thank you to the NDSC for inviting Chrissy and Cynthia to speak at the Conference, and thank you to the audience for participating and engaging! Finally, keep an eye out for where our training consultants fly off to next!