Hamburger Mary's is a staple in Chicago's Andersonville neighborhood, featuring a dining room, an upstairs cabaret with karaoke, and a brewing company next door. On July 1st, participants, family, board members, and staff gathered at Hamburger Mary's in Andersonville for a fun evening of charity night HamBingo.
Fun With Charity Night HamBingo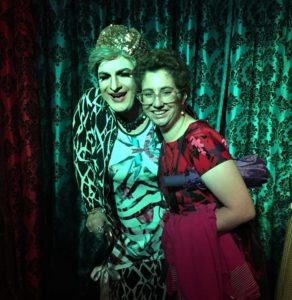 We rounded out June's LGBTQ Pride month with this inclusive fundraiser. At HamBingo, bingo players pay $15 for 10 games of bingo or $25 for 20 games, and the numbers are called by Hamburger Mary's in-house drag queen divas.
The bingo callers are not the only part of HamBingo that is unique though. There are nearly two dozen different ways to win bingo at Hamburger Mary's, depending on the caller's choice before the round begins. There was a performance at intermission, but first our bingo caller, Granny, left the stage to prepare for the performance.
While Granny was gone, two members of the Auxiliary Board took the stage. David Jacob called a round of simple bingo, while Auxiliary Board Chair Anu Rajendran called a more complicated game. "It was great to see the Auxiliary Board take charge of this event," shared Development Director Niki Moe Horrell.
We played ten rounds of HamBingo with Granny's intermission performance in between. Granny entertained us with a fun rendition of "Believe" by Cher. After throwing in an impressive high kick out on Hamburger Mary's patio, Granny returned to finish calling our bingo games.
Thanks to Chicagoland Community
We ended the night with lots of laughter as our community fully enjoyed the offerings of Hamburger Mary's. This evening of fun and fundraising included a diverse crowd of attendees offering support to Center for Independent Futures. We want to extend a large thanks to each of our attendees, as well as to Hamburger Mary's. Thanks to their hospitality and space, we raised over $1,000, which will support our growing community.