For not-for-profit groups like ours, the help we get from volunteers makes a huge difference. At Center for Independent Futures, volunteers help us run a variety of activities, keep the office looking nice, and make our technology run smoothly. April is Volunteer Appreciation Month, so we want to take the time to honor a few of our excellent helpers.
Volunteer Appreciation Month Highlights
One activity we offer, heARTwords, is run by volunteer Paul Fields. During heARTwords, participants partake in a writing workshop where they can share their experiences and feelings through writing. Paul encourages participants to explore their creativity in these safe spaces, showing off the talent in this community. We showcase the work of participants, like Sandy and Jake, on our blog. Thanks so much to Paul and all the volunteers who support the work of heARTwords!
K.C. & Shamim Esmail contribute behind-the-scenes assistance at the Evanston office. K.C. helps us keep the office organized — which is very appreciated in this busy office. Shamim keeps us operating efficiently by helping us with technology around the office. Because of K.C. and Shamim, we have more resources available to support individuals.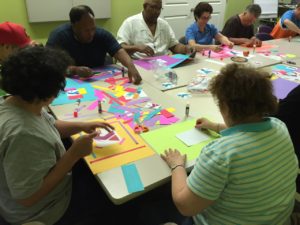 Amy Wojtas Koetz volunteers her time to help at Art Club. Several of our community members participate in Art Club, using the time to express themselves and their experiences. Thanks to Amy, we are able to see beautiful pieces of art from our community at this creative outlet on Mondays.
Join the Volunteer Club
Finally, we would love to shout out our very own Volunteer Club. Led by staff member Joe Jackson, our community comes together to build community here in Evanston. Each month, the group decides to support a different cause or group, enriching the lives of those around us.
Volunteer at Center for Independent Futures
Do you have a fun activity or helpful skill you would like to contribute to Center for Independent Futures? Reach out to center@independentfutures.com to find out about volunteer opportunities today.