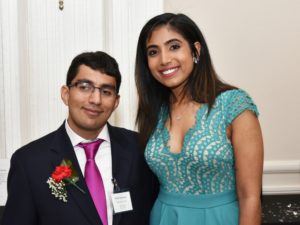 Center for Independent Futures' eleventh annual SPARK was a joyful celebration of fifteen years of supporting hopes and dreams. Thank you to all who attended, volunteered, and supported the event to help us commemorate this anniversary! View our full album of photos on Facebook here, and check out 6 of our favorite moments below:
Participants sharing their stories: We heard from four individuals whose involvement spanned the length of our fifteen years about their full lives. Thank you to Paige, Avi, Jenny, and Adam for sharing!
Photo loop of memories from the past fifteen years: During dinner, guests enjoyed a slideshow of images from Center for Independent Futures' history. In case you missed it, check it out on our YouTube channel by clicking here.
A matching challenge and your generosity: Thanks to an incredible donor, $30,000 raised by guests at SPARK was matched dollar-for-dollar to go twice as far to support hopes and dreams.
The third annual Jane Doyle Awesome Awards: This year, we honored staff member Rob Larson, community partner First Bank & Trust, and participant Matthew LaChapelle. Read more about the award winners here.
The live auction: After exciting bidding contests,, lucky winners went home with an original painting by staff member Rob Larson, tickets to U2/The Lumineers and Bruno Mars, an Evanston staycation, and a four-night getaway.
Dancing the night away: The dance floor was packed and energy was high with music from Euphoria Band. Lady Gaga made a special guest appearance, thanks to the talented actors from Collaboraction Theater Company who brought the stars to SPARK.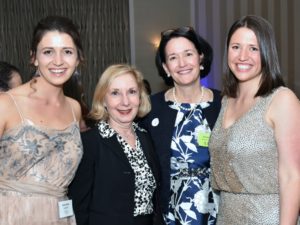 Thank you to all who attended, volunteered, participated in the raffle or Heads or Tails game, bid in the silent or live auctions, and supported us through donations. We are especially grateful to our sponsors, including premium platinum sponsor Stone Heritage Properties, gold sponsor PSAV, silver sponsor First Bank & Trust, and bronze sponsors Inland Bank, Monahan Law Group, and Rubin Law. Dessert sponsors Bennison's Bakery, Beth's Little Bake Shop, Eli's Cheesecake, Flat Top Grill, Lawrence Deans Bake Shop, Nothing Bundt Cakes, Sweety Pies Bakery, Three Tarts Bakery & Cafe, and Trader Joe's filled our decadent dessert displays. Beverage sponsor Lagunitas Brewing Company helped us stock the bars with local beer.
Because of all of our supporters, old and new, SPARK 2017 was a shining success, allowing us to continue creating innovative solutions for individuals with disabilities and their families as they pursue their hopes and dreams.