"Life's most persistent and urgent question is, 'What are you doing for others?'" — Martin Luther King, Jr.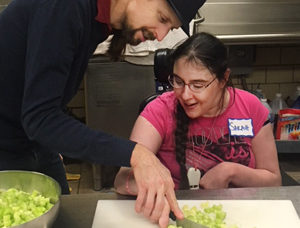 For the third consecutive year, the Center for Independent Futures community honored Martin Luther King Jr. Day by partnering with the Woman's Club of Evanston for a service project.
Members of both organizations gathered to cook soup for Soup at Six, a non-profit organization that provides free dinner at Hemenway Methodist Church in Evanston every Tuesday evening, welcoming over 100 guests.
Volunteers spent time chatting, laughing, and getting to know each other while they chopped vegetables, prepared chicken, and stirred soup. Working side-by-side with fellow community members provides individuals with disabilities the opportunity to make new connections and develop social skills.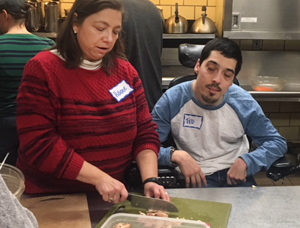 Thank you to our Volunteer Club and the volunteers from the Woman's Club who made this event possible! To see more photographs from the event, click here to view our photo album on Facebook.