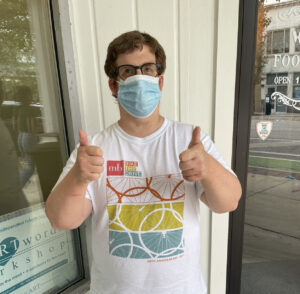 Before the pandemic, I was working at Nordstrom in Old Orchard usually 3 to 4 days a week. I was a busser in the Cafe, and I cleaned tables, put dishes in the back, and cleaned the floor.  I had been at that job for about 10 years.
I first learned about the pandemic in the news, but soon my manager talked to me and told me that since the pandemic happened, they were going to have to lay me off. He said that he would bring me back, but I didn't know if that was certain or not. They just didn't know what was going to happen.  
During the pandemic at home, I went through a lot of emotions like sadness, loneliness, and I felt like I didn't know what I wanted to do. 
I was laid off for a year. During that time, I got emails about which Nordstrom stores were closing, and I didn't know if it would be my store. Then we heard that some employees were going to be let go.  
In March of 2020, I got an email from my manager that we were going back. It felt good, but also a little weird at the same time.
I hadn't seen many people during the pandemic, and it was just so different to be back around people.  
We had meetings about going back to work, and the meetings were very helpful to me. But when I went back to work it was only going to be one day a week. That's all they have for me. 
Now, I have two jobs. I work at Nordstrom and I'm also a self-advocate for Illinois Self-Advocacy Alliance. Tara Ahern, a member of Independent Futures' Self-Advocacy Club, contacted me in January and asked if I wanted to join the Alliance. I didn't have a job back then, so I said yes. 
I do advocacy, so I speak up and speak out about my needs, or different topics like healthy sexuality or advocating for legislation. 
I don't want more hours from Nordstrom. I'm in a good place right now. I'm used to talking about advocacy work, that I can reach out to the disability community now, and I've never done that before. The pandemic gave me new opportunities. This is a better balance for me.
Adam Wiser has been a participant with Independent Futures since 2012. He has worked at Nordstrom Cafe at Old Orchard for 11 years and has been a self-advocate with the Illinois Self-Advocacy Alliance for almost a year.  He is an active member of Independent Futures' Advocacy Awareness, Walking, and Biking Clubs.