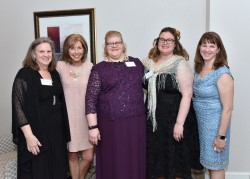 On April 27th, we danced the night away at the Hilton Orrington as we celebrated our 12th annual SPARK. Our SPARK 2018 celebration is a chance for us to honor our community full of participants, their families, and our generous supporters. As we enter our 16th year of serving the Chicagoland area, we want to extend a big thank you to everyone who has joined us along the way.
Leading up to dinner, we laughed together while bidding on donated auction items, playing Heads or Tails, and taking a chance on our gift card tree. We announced our fourth annual Jane Doyle Awesome Award winners, honoring staff member Cynthia Witherspoon, who has been with us for 11 years, our community partner Northwestern University, and participant Lindsay Tonyan. Each of these awards celebrates an extraordinary and AWESOME member of our community who helps us achieve our goals every year.
This year our live auction featured stellar packages including a trip to the South African Zulu Nyala reserve and daily photo safaris, as well as tickets to U2, Ed Sheeran, and Elton John, tickets to spring training in Arizona, a jam-packed St. Paddie's Day weekend in Chicago, and a beautiful painting by our very own artist in residence and staff member Rob Larson. These exciting packages were snatched up quickly by enthusiastic bidders!
Entertainment and Delicious Desserts
Following the live auction, Euphoria Band opened up the dance floor with "This Is Me," from The Greatest Showman. This night would not have been possible without the band, entertainment from Collaboraction, and support from our sponsors. We are especially grateful to our sponsors, including platinum sponsor PSAV, gold sponsor Sidley Austin LLP, silver sponsor First Bank & Trust of Evanston, and our bronze sponsors Inland Bank, Monahan Law Group, Northwestern University, and Rubin Law.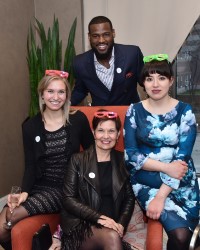 The delicious desserts on display were donated by Bennison's Bakery, Beth's Little Bake Shop, Flat Top Grill, Lawrence Dean's Bake Shop, Nothing Bundt Cakes, Sweety Pies Bakery, and Three Tarts Bakery and Cafe. Revolution Brewing and Temperance Brewing Co  donated the night's beer selection.
SPARK Success, Thanks to You!
We want to thank all who participated in the silent or live auctions, Heads or Tails, raffle, and our paddle raise. Because of you, SPARK 2018 was a great success and will help us continue supporting individuals with disabilities and their families. We couldn't reach our own hopes and dreams without each and every one of you.
Find the professional photos from SPARK on Facebook today! Do you have pictures from SPARK? Post them to your favorite social media platform and be sure to tag them #SPARK2018 so we can see them too!