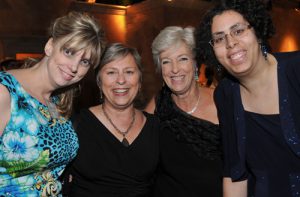 Center for Independent Futures was founded in Evanston, Illinois, by Kay Branz and Jane Doyle, two women raising daughters with developmental disabilities. Together, Kay and Jane navigated the challenges of the school system and advocated for programs and experiences that would prepare their children for the world beyond high school.
But when their daughters graduated, that world didn't offer the supports and opportunities they deserved. Kay and Jane decided to create new solutions and develop innovative ways to support individuals with disabilities and their families. They founded Center for Independent Futures in 2002.
At our founding, we worked closely with a Massachusetts-based non-profit organization called Toward Independent Living and Learning (TILL). We embraced TILL's model, which enables individuals with disabilities to become active, contributing citizens and live independently in their chosen communities. Later, Planned Lifetime Advocacy Network (PLAN) in Canada introduced us to the concept of Personal Networks. Northwestern University, our neighbors in Evanston, provided an invaluable resource during the development of our New Futures Initiative™, a process to create community-based housing options.
Today, Center for Independent Futures supports hundreds of individuals throughout the Chicago area and consults with organizations around the country. Our community includes our passionate and talented staff, our dedicated boards, a network of professional resources and partners, engaged families and individuals, and generous supporters. Thanks to the commitment of these groups, Center for Independent Futures continues to grow and pursue our vision of a future where all individuals have access to the opportunities of a full life.