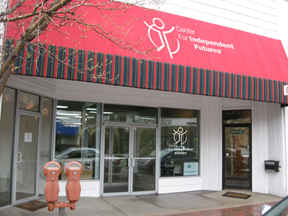 1015 Davis Street
Evanston, IL 60201
Phone: 847.328.2044
Fax: 847.328.2665
center@independentfutures.com
Getting to the office: We are located a couple of blocks from the Davis Purple Line 'El' stop, the only fully accessible public transit stop in Evanston. Not taking public transit? There is paid parking available on Davis Street outside of our office, as well as the Sherman Parking Plaza near Target. If you are planning to be at the office for more than 2 hours, we recommend the Sherman Plaza due to the current time restrictions on Davis Street.
Like us on Facebook | Follow Independent Futures on Instagram | Follow us on Twitter
Connect with us on LinkedIn | Read our blog
Center for Independent Futures welcomes and appreciates your feedback.
Send us questions or comments by filling out the form below.