Kevin Schneider worked at Dominick's for eighteen years, becoming a familiar face to customers during nearly two decades at the same store. When the grocery chain unexpectedly announced its closure, unemployment threatened to disrupt not only Kevin's daily routine but also his connection to the community. But thanks to the support of Center for Independent Futures, Kevin found a new job just a week after his store shut its doors.
Through our My Full Life™, Kevin gathered a team of supporters ready to step in when challenges arise. Kevin's team, which includes friends, relatives, neighbors, and members of the Center for Independent Futures community, originated in 2007. They continue to meet twice a year to work toward goals, develop action plans, and identify resources.
It was this network that Kevin and his mother, Susan, called upon when unemployment loomed. "Everyone was receptive, and everybody wanted to do something. Everybody thought it was necessary," Susan says.
With the team's efforts and resources enlisted from the community, Kevin found an opportunity to interview at the Jewel-Osco in Wilmette and was soon hired. Kevin says he appreciated having the support of his team behind him throughout the process. "It felt really great," he shares.
The accomplishment of this goal was not the end for Kevin and his team. Team member Bonnie Dohogne, who serves on the Illinois Council on Developmental Disabilities and helped build her own son's Personal Network with Center for Independent Futures, stresses the importance of viewing the work as ongoing. "We all need support to reach our goals," she explains, "and our goals evolve over time. A Personal Network can use the skills taught in the My Full Life™ software to help an individual focus on current goals, encourage continued growth, and celebrate successes."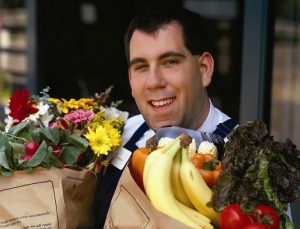 Consistent growth is a hallmark of My Full Life™. Kevin's father, Marc, has seen his son thrive with the support of Center for Independent Futures and his Personal Network. "I've seen his willingness to try things that, in the past, he didn't think he was capable of doing," Marc says. "He's expanded his capacity to make advancements in managing his own life."
Today, Kevin sets goals with his Life Skills Tutor, participates in social events with several organizations, and works out at the YMCA. A huge sports fan and a committed Wildcats supporter, Kevin is a mainstay of the Northwestern Athletics Department community. He uses his gift for directions to navigate public transportation, getting around the Chicago metropolitan area independently. Kevin's full life demonstrates how My Full Life™ and the Personal Network formed through the process can be incredible supports on the path to hopes and dreams.
"People should invest their time and resources in this process," Susan says. "It's very powerful. It's really opened up Kevin's world."