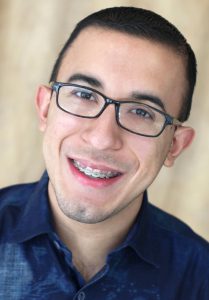 "Center for Independent Futures, this is David."
Those seven words, familiar to our callers and visitors, represent a dream fulfilled for Office Administrator David Suchite. A recent graduate of Evanston Township High School, David received support from Center for Independent Futures at the high school's Transition House on his way to achieving his goal to work in an office.
"Center for Independent Futures has helped me be more independent, believe more in myself, and not give up," David shares. "I don't know where I would be if I hadn't gone to the Transition House."
This uncertainty about the future is felt by many students with disabilities. Like David, they deserve brighter futures. In community and classroom settings such as Evanston Township High School's Transition House, our My Full LifeTM web-based software supports individuals to set goals, identify resources, and make plans. At the Transition House, members of our School Consultation Staff have supported students aged 18-22 since the program opened its doors seven years ago.
"We've had a great partnership with Center for Independent Futures," says Liz Schroeder, a teacher at the Transition House and David's case manager. "My Full LifeTM lets students see that their goals are achievable."
For David, his path to employment included gaining new skills to be more independent. He learned how to take public transportation, practiced self-advocacy, and got the support he needed to take courses at Oakton Community College.
After volunteering and interning at the office, David was hired. His professional skills continue to grow as he becomes more involved in the community. Soon, David will have his exit interview at the Transition House. His goals haven't stopped, however. He plans to go back to school to work toward his dream of becoming a social worker. In a few years, he would like to move into his own apartment.
The possibilities for David's future are endless. With partners at schools and organizations, Center for Independent Futures uses our comprehensive, person-centered planning tools to support even more individuals with disabilities to achieve their dreams.