The cornerstone of our approach is the pursuit of a full life, when individuals with disabilities live independently and pursue their hopes & dreams.
For agencies, My Full Life provides a person-centered approach to life skills that aligns with the industry's best practices. Along the way, we provide ongoing training and consultation to agency staff, working with you to make a difference in the lives of individuals with intellectual and developmental disabilities.
Educators can provide more efficient and cost-effective transition services than if they created a comprehensive curriculum of their own with My Full Life. We help you prepare students for life, not just the next set of "special needs" services.
| For schools, My Full Life... | For agencies, My Full Life... |
| --- | --- |
| Gives students access to a comprehensive life skills curriculum | Aligns agency practices and services for person-centered outcomes |
| Promotes continuous improvements of your team's transition practices through professional development and on-site coaching | Promotes the use of data to monitor growth of individuals and measures fidelity of implementation |
| Helps teachers create individualized lesson planning with adaptable learning resources | Creates consistency within the training, curriculum, and approach to learning |
| Provides access to 150 professional lessons about life skills written by our dedicated curriculum writers | Offers a person-centered approach to intake when using the skills inventory |
| Connects students and families with post-secondary resources and opportunities | Satisfies the person-centered planning Medicare requirements |
| Captures a student's progress and allows the opportunity for collective data | Provides access to our innovative technology solutions and services to make a difference in the lives of those individuals you support |
Center for Independent Futures understands the challenges organizations, schools, and agencies face. And our expertise is a phone call away.
---
My Full Life™
We created the My Full Life™ solution to align to Indicator 13 of the Individuals with Disabilities Education Act, while also satisfying the person-centered planning rules of Medicare. First, we listen to an individual's hopes and dreams and help them create a plan—for students, this plan becomes measurable post-secondary goals. Then, we look at the individual's abilities and determine where new skills are needed by performing age-appropriate assessments. Finally, it's time to learn. We create a plan to learn transition skills and reach goals. For educators and agency professionals, this process simplifies the writing of annual IEP and ISP goals required by law.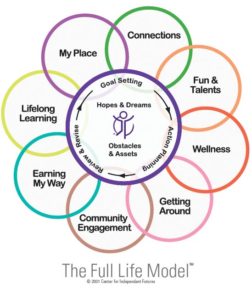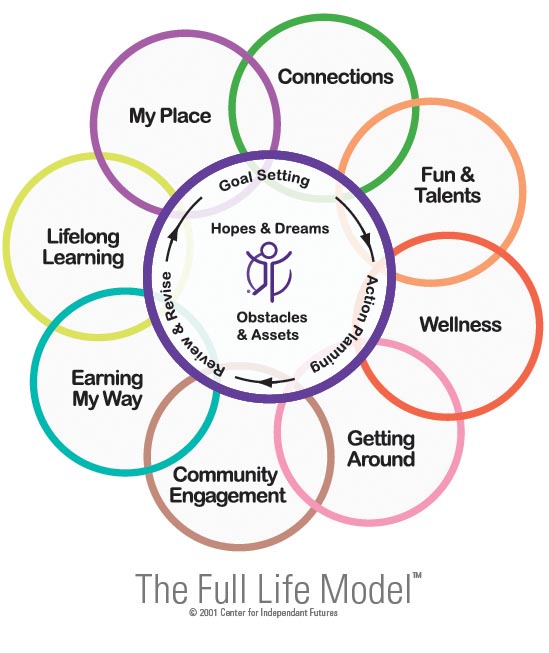 With hopes and dreams at its center, The Full Life Model™ is the prism through which we view each individual. The eight essential aspects of a full life are integral to our person-centered Planning Process, Skills Inventory, and Skills Training.
Experience My Full Life™ in action! Sign up for a personalized one-on-one demonstration now.