In Illinois, students with disabilities can stay in school until age 22. From ages 18-22, this group of students typically participates in a transition program where they learn life skills. 
At Independent Futures, we partner with Evanston Township High School's Transition House every summer. Our school team works with transition professionals to create a weeklong program that teaches critical skills for navigating the community. This program is called Travel the Town (formerly Life Tools Camp). 
This year, we hosted Travel the Town at Hub 930, a community space housed in one of our Community Living Options on Chicago Avenue. A group of 7 young men from the Transition House discovered all that Evanston has to offer them.
What Are Critical Life Skills?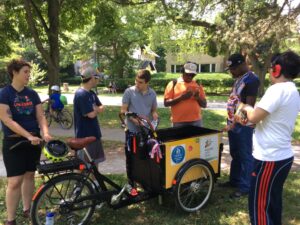 Let's begin with an understanding of what Independent Futures considers 'critical life skills.' These are the skills that we need to live independently, like cooking, cleaning, and being safe. 
For example, as part of Travel the Town, students begin each day by discussing the day's plan. They cover questions like: Where will we go? Is that north or south? How will we get there? What is the best behavior in context? 
Each of these questions help the students build safety habits, like not wandering and understanding public transportation. Building from these questions, the group voted on what they wanted to do and then left for their activities.
Where Did Travel the Town Explore?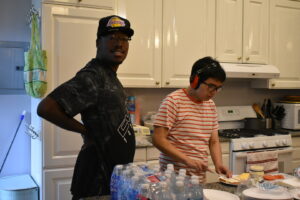 The Transition House travelers explored a lot of Evanston, including the Evanston Public Library  South Branch, parks, Andy's Custard, Dave's Down to Earth Rock Shop, Evanston Police Department, and more.
To visit all of these fun local favorites, the group took either the CTA bus or the 'El' trains. Led by Sharon Purdy and Cynthia Witherspoon, the students would determine which direction they needed to go and which train would take them there, plus which stop to get off. Each day, they navigated Evanston together, enjoying the freedom to go where they decided. 
Sharon's favorite part of Travel the Town is the chance to spend "unstructured" time with the students. "The students don't often get the chance to be out together outside the classroom," Sharon says. "They enjoyed hanging out with their friends, having lunch in the backyard, and being together with nothing to do." 
The Possibilities of an Independent Future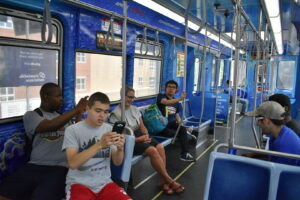 While exploring Evanston, the students were able to see what their own futures could hold. One of our community members, Lindsay, spoke with the group about what her life is like. Living independently in an apartment, Lindsay volunteers, has a job, goes out with close friends, and is engaged. Lindsay's life is the type of full life that many of our community members have, and it's a positive example of the life the Travel the Town students could have.
Like for people without disabilities, living independently has learning curves, and this program is a step toward futures where these students live independently. By focusing on life skills, our partnership with Evanston Township High School prepares students with disabilities for the future they choose.