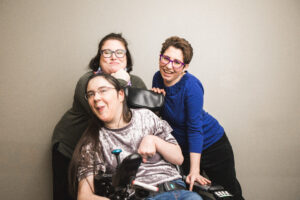 On #GivingTuesday, December 3, the Center for Independent Futures community came together to see the difference one day could make in the lives of individuals with disabilities. The total is in: more than $26,000 raised in just 24 hours! Together, we're creating opportunities for all individuals to contribute their gifts, making the entire community stronger.
Included in our total raised was a generous matching grant from The Coleman Foundation. The Coleman Foundation is a generous supporter of Center for Independent Futures, particularly behind our efforts to help families create community-based housing. Thank you to the Coleman Foundation for supporting us on #GivingTuesday again this year!
Center for Independent Futures is grateful for all who gave on #GivingTuesday efforts and helped to spread the word. All funds raised on December 3rd, and every day, directly support individuals with disabilities, their families, and their communities.
If you missed #GivingTuesday and would like to make your community stronger through an online, tax-deductible gift before the end of the year, click here. Contact us at (847) 328-2044 for more information.