Jonathan Shuman is a man who loves to travel the world, viewing the world in a positive and friendly way. He wants to share how he uses our philosophy of "create your journey." These are his notes from his trip to Greece, exploring the ancient sites and gorgeous isles.
Day 1: Leaving Chicago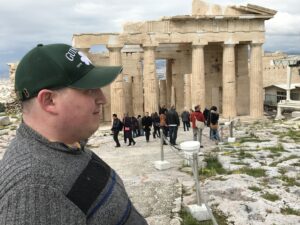 My parents picked me up from Harrison House in Evanston, and Howard drove me to Chicago O'Hare International Airport where I would board my flight from Chicago, Illinois to Minneapolis, Minnesota. At Minneapolis Saint Paul International Airport, I waited in the traveler's assistance section. Then, I would board a Delta Airlines flight from Minneapolis, Minnesota to Newark, New Jersey. 
When I arrived at Newark Liberty International Airport, I met my travel guide named Kailash Dhaksinamurthi. Originally, a person named Harry was supposed to go on the trip to Athens, Greece with me and Kailash. Unfortunately, Harry couldn't join us because Harry possibly got mugged and had all of his money stolen and he didn't have enough travel insurance to travel to Athens, Greece with Kailash and me. So it's me and Kailash, just the two of us. 
We went to baggage claim at Newark Liberty Airport and we got my big black suitcase and I had to check in again, this time with Emirates Airlines. Kailash and I boarded our Emirates Airlines flight from Newark, New Jersey to Athens, Greece. On the airplane, I fell asleep.
Day 2: Arriving in Athens
Gia sou which, in Greek, means Hello. Today I just arrived in Athens, Greece, with the travel organization Search Beyond Adventures.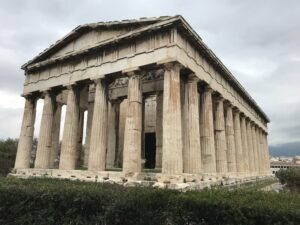 When I woke up on my flight, I was above the Atlantic Ocean. The flight from Newark to Athens took about 10 hours traveling east. On the airplane, I was served scrambled eggs and potatoes for breakfast, and I had a cup of coffee with cream and no sugar to drink with my breakfast. I also watched a movie on the airplane called Green Book starring Viggo Mortensen and Mahershala Ali. It was a fantastic film. I would rate the movie Green Book an 8.5/10 because it was dazzling.
Around 3 pm, me and Kailash arrived at Athens International Airport in Athens, Greece. We also went to baggage claim and we got my big black suitcase and I also converted my United States dollars into Euros, the official currency of Greece. 
Kailash and I  took a taxicab to the Philippos Hotel located on Mitseon Street in Athens Greece. Later, at around 5:35 pm Athens Greece time, me and Kailash went out to dinner at Regal Bar and Bistro and I had a turkey burger with house cut fries for dinner and Kailash had a margherita pizza for dinner. The turkey burger tasted velvety and crisp and tender and moist and also a little salty. 
After dinner, we walked around the neighborhood. We saw orange trees and a cat that was perched on top of a car. You know how there are so many squirrels in USA? Well, there are lots of feral cats in Greece and Israel as well.
Day 3: Exploring Ancient Times
Gia sous (Hello) again everyone. This is Jonathan Shuman writing his journal and blog for Day 3 of my trip to Athens Greece with Search Beyond Adventures. 
Today, my tour guide, Kailash, and I ate breakfast in the morning at the Philippos Hotel on Mitseon Street in Athens. Later, we went to see the Acropolis of Athens, and we took a tour of all the architectural sites of the Acropolis, such as the Old Temple of Athena Nike, the Erechtheion where the contest between Poseidon and Athena was held, the Theatre of Dionysus where musical contests were held in Ancient Greece. We also went to the Parthenon which is still under construction. However, rumor has it that when I turn 40 years old in 2029, the Parthenon will be completed. How cool is that? 
Later, me and Kailash went to Monastiraki Square and we went shopping and I bought 3 shirts one for me and one for each of my roommates. I also bought a tiny snowglobe and 3 postcards that I will give to my Solomon Cordwell Buenz coworker who is an American of Greek descent.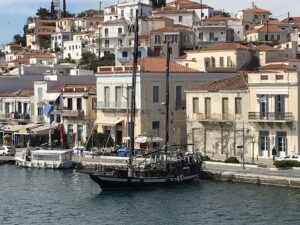 Later, me and Kailash ate lunch at the Monastiraki Square. After that, we took a tour of the Athenian Agora where there was the Library of Hadrian. I learned how the Roman Empire conquered and defeated civilizations such as the Greek Empire or Egyptian Empire. When invading Greece and Egypt, the Roman Empire burnt and destroyed buildings, and then they constructed and built their own new buildings. That is called imperialism. Other examples include the Babylonians, the Greeks, the Romans, the Venetians, the Egyptians, and the Chinese and also the British Empire and the Russian Empire and also American imperialism.
After a long day, Kailash and I went back to the Philippos Hotel where we relaxed and took naps. Now as I write, we are having dinner and for dessert. I'm going to get chocolate cake to celebrate my 30th birthday which is today. Tomorrow, me and Kailash are going to take a boat tour and visit 3 of the Saronic Islands: Hydra, Poros, and Aegina. 
Day 4: Grecian Islands
Opa! That's what Greek people say when they celebrate an anniversary or a party or a birthday. This is Jonathan Shuman writing his Journal and Blog for Day 4 of my trip to Athens Greece. This part of my journal is about a tour of some Grecian islands. 
The first stop was in the island of Hydra, Greece, where two movies have been filmed: Boy on a Dolphin and Boat Trip. When we arrived at Hydra, we took a tour of the village of Hydra. Kailash fed the cats Edam cheese that he bought at a supermarket. On the island of Hydra, there are no cars. You have to either walk or ride on a donkey. 
After we left Hydra, our next stop was Poros. We climbed up a lot of stairs to see a clock tower on the promontory of Poros.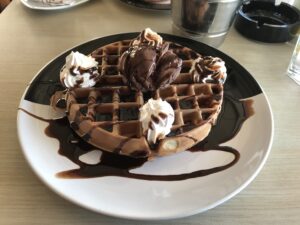 Our final stop was on the island of Aegina where I ate a waffle with chocolate ice cream and whipped cream and covered in chocolate syrup. It tasted rich and velvety and moist and creamy and crispy. On the boat cruise back to Athens, we listened and danced to authentic Greek music such as Zorba's dance. 
What a day this has been.
Day 5: Going Home
Today, we went to Syntagma Square where we saw people run in the Athens Marathon. It was difficult to get to the other side to see the changing of the guards at the Tomb of the Unknown Soldier. We used the subway to cross, and we saw the Hellenic Parliament and the changing of the guards at the Tomb of the Unknown Soldier. 
Next, we went for a stroll at the National Garden of Hellas where we saw animals, like goats and turtles. After that, me and Kailash went shopping in the Plaka. For another coworker, I bought a blue Athens short-sleeved shirt and a tiny statue of Leonidas of Sparta.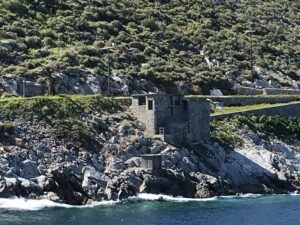 Finally, we went back to the Philippos Hotel and we rested and relaxed there. Later at night, Kailash and I went to eat dinner at an Italian restaurant called Bel Paese. "Bel Paese" means "beautiful town" in Italian. For dessert, I had a slice of apple pie, and Kailash had coffee with baklava for dessert. 
Tomorrow, me and Kailash will go see the Temple of Olympian Zeus. Then we will pack up our stuff and say goodbye to Greece. We are going home to Chicago, Illinois, ending my Big Fat Greek Birthday Vacation. 
Until next time, OPA!!!!!
View Jonathan's England and Ireland trip journals, starting with part 1. You can support participants to "create your journey," this year's theme for our spring event, by attending SPARK on Saturday, November 7th.