For many years, we have worked with the planners at Oak Wealth Advisors. As trusted special needs financial advisors, the professionals at Oak Wealth Advisors demonstrate the work it takes to focus on an individual and plan with families.
A Night With the Experts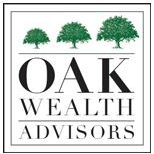 As a resource partner with Oak Wealth Advisors, we were proud to offer "A Night With the Experts," a town hall event on Thursday, April 11th. Our Executive Director Ann Sickon, Dr. Meghan Burke of University of Illinois, and Mike Walther of Oak Wealth Advisors joined together to discuss the most challenging issues facing families with loved ones with disabilities.
Topics covered during the panel included transitioning through different phases of life, preparing your family for the future, communicating plans to others who will be involved, and building community relationships. Each of the three experts brought a unique perspective to offer on these topics, while answering in-depth and intriguing questions from the audience.
Oak Wealth Advisors Consultation Scholarship Opportunity  
Thanks to the generosity of Oak Wealth Advisors, we are excited to present an opportunity for one family to receive a scholarship for a 90 minute special needs financial planning consultation. During this consultation, Mike Walther and the Oak Wealth Advisors team will:
Conduct a comprehensive review of the family's current financial position

Provide recommendations on government benefits

Explain the benefits of ABLE accounts and Special Needs Trusts

Give advice related to titling assets

Recommend elements to include in a long-term care plan

Offer referrals to other special needs professionals
Oak Wealth Advisors has generously offered a second scholarship! Email clarsen@independentfutures.com to receive the second consultation scholarship.
Thank you again to our partners at Oak Wealth Advisors for allowing us the opportunity to offer this consultation.