SPARK is an annual celebration of our community, but it is also a chance for us to celebrate the stellar individuals and organizations who support this work every day. Recipients of the Jane Doyle Awesome Awards represent Independent Futures through dedication, innovative leadership, personal integrity, and community-forward thinking.
On April 26, we honored three community members who embody these qualities with the Jane Doyle Awesome Awards. These awards are given to a staff member, a participant, and a community partner. Read on to learn more about this year's honorees!
Stellar Staff: Jackie Eddy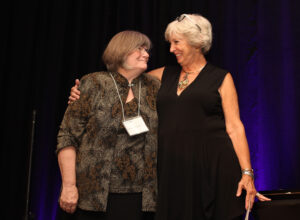 With more than 20 years of service, Jackie has been with Independent Futures since day 1. Really, she has been here since before day 1, meeting Jane at the bus stop where their children were picked up for school. The two bonded over the need for better access to future opportunities for people with disabilities.
Since then, Jackie created the "voice" of Independent Futures, mentored new staff, and developed the New Futures Initiative training program. Jackie's work at Independent Futures means new opportunities for individuals with disabilities to be independent across the country. Jackie demonstrates passion and commitment to creating opportunities for individuals with disabilities to fully live, work, and give back in their communities.
Professional Participant: Nestor Gonzalez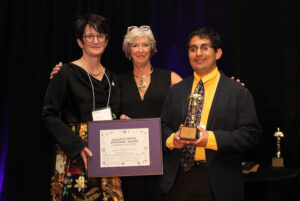 Since joining Independent Futures' community, Nestor has grown in a variety of ways. He is a hard worker, a leader, and an active community volunteer. Over the last few years, Nestor joined the Young Professionals Board where he acts as a liaison to the Advisory Council.
As a member of our community, Nestor seeks new and creative ways to maintain a productive relationship between our young professionals and participants. He enjoys his job and a healthy, loving relationship – all with grace and a professional demeanor!
Creative Community: Evanston Community Foundation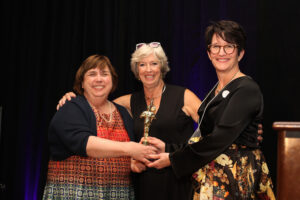 We awarded our final 2019 Awesome Award to Evanston Community Foundation. The foundation has walked alongside Independent Futures since the beginning. Evanston Community Foundation awarded Independent Futures our very first grant many years ago.
Since that first grant, the foundation has generously provided many new collaborative grants, funding opportunities like our Transportation Camp and Life Skills Camp. The support of Evanston Community Foundation helps us make Evanston a more just, vibrant, and inclusive place for individuals with disabilities.
Congratulations once again to each of this year's winners! As one of our core values, community means everything here at Independent Futures. From the bottom of our hearts, thank you for walking this path with us.