Last month, the ARC of Illinois hosted their 68th annual ARC Conference. From April 25-26, service professionals, educators, and many others came together to discuss how we can "Unite, Empower, Act" to create an inclusive society with all opportunities available to individuals with disabilities. Coming together united, attendees were able to share new tools, new ideas, and best practices for supporting individuals.
Additionally, the conference offers individuals with disabilities the opportunity to share their stories, complete with struggles, successes, and dreams.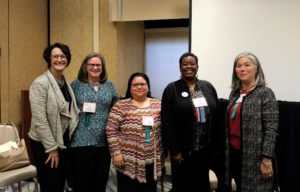 Center for Independent Futures staff made two presentations at this year's conference. The first panel, titled "Creating Housing Solutions Through Community Partnerships,"shared information about our New Futures Initiative™ training. This program highlights our current work with family groups supported by a grant from the Coleman Foundation. The panel presentation featured families, service providers, developers, and supportive technology providers who shared how this collaborative approach can help families create new community housing solutions.
The second panel, led by Change Champions Project Director Kathy Lyons, focused on creating inclusive communities. Members of four diverse communities shared how they are creating inclusive communities for all, including individuals with disabilities. The Change Champions project, funded by a grant from the Illinois Council on Developmental Disabilities, illustrates what happens when we make inclusion a priority.
We would like to thank the ARC of Illinois for the opportunity to present our innovative solutions to problems facing the disability community today at the ARC Conference. If you would like more information about housing training or the Change Champions project, call us at (847) 328-2044.