Here in Evanston, Center for Independent Futures supports many individuals with disabilities who work, live, and give back to our community. A place to call home is more than just an apartment or a room. It's a place where you can be yourself and make your own decisions. If you or someone you know is looking for a new place to call home, we would love to share the opportunities we have for individuals with disabilities to live independently in our community. 
Harrison Street Community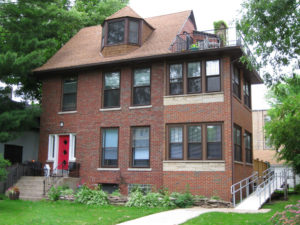 The Harrison Street Community is located in northwest Evanston on a comfortable tree-lined street within walking distance to many shops, hip restaurants, Metra, and bus lines. Currently, one bedroom is available on the first floor. The room is located in a three-bedroom, two-bath apartment shared by two men who have lived independently for many years. This apartment includes an elliptical machine, shared TV, and internet access with free laundry in the basement.  
An Independent Futures staff member called a Community Builder lives on the third floor and provides overnight support, daily check-ins, weekly meetings, and social events planned with the residents. Together, the residents and the Community Builder work to make this a safe place to grow, learn, play, relax, and live independently with support.  
Chicago Avenue Community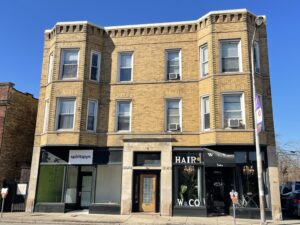 In more urban southeast Evanston, the Chicago Avenue Community has two apartments available on July 1st, 2021. This building is close to restaurants, grocery shopping, Lake Michigan, Metra, CTA, and bus lines. The first availability is a one-bedroom, one-bath apartment. The second is a three-bedroom, two-bath apartment that provides an excellent opportunity for up to three friends to move in together. 
Chicago Avenue contains six individual residences, including one for the Community Builder, who provides overnight support, daily check-ins, weekly hangouts, and social events planned with the residents. A community gathering space called "The Hub" on the first floor includes a full kitchen, dining area, shared TV, WiFi, and free laundry. The Hub is also a multi-use space for the wider Independent Futures community to host workshops, tutoring sessions, and celebrations. 
Community Builder Nick Connell observes, "I think the Independent Futures Communities offer a unique blend of interdependence and independence. That's why I chose this role, to have mutually beneficial relationships and a community life that supports full independence with just the right amount of togetherness. It creates aliveness, wholehearted connection, opportunities for mutual support." 
Find Support in Community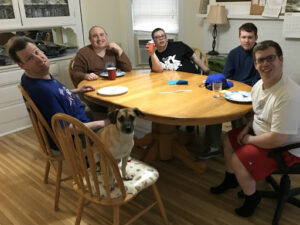 Center for Independent Futures provides personalized supports for each resident in our communities. In addition to Community Builder support, each resident works one-on-one with a Skills Tutor and Community Life Coordinator to strengthen independent living skills. Residents and Center for Independent Futures staff work together, exploring choices and options using our person-centered approach to create a full life. 
Long-time resident Jake Joehl explains, "I think people should choose to move into this community because we are a vibrant and active community. I've learned a lot from my time in this building, and all staff here really know what they're doing. I feel welcome here, and I've met great people. I've also learned a thing or two about living independently!"
Contact us
If these community residences sound like a good fit for you or someone you know, call us at (847) 328-2044. For more information about our Community Living Options, click here.