"I had never heard of Independent Futures before, nor was I aware of any type of supported living model like their Community Living Option (CLO). So when the opportunity to apply for the Community Builder opening came across my desk nearly a decade ago, I had no idea what I was getting myself into. However, it was clear to me that Independent Futures was
something
incredibly unique and quite special. From the moment the opportunity presented itself to the day I moved in, it was only a span of two weeks. Needless to say, I was sold. Over eight years later, I'm still a believer." – Aby Karottu, Community Builder 
Over the past 20 years, Independent Futures' work has centered the best ways to bolster opportunities to be independent for adults with disabilities. Out of this work, we created the New Futures Initiative™, a training program to help families create housing options for their loved ones.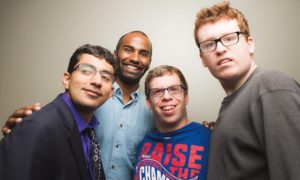 Our training is based on our own experience creating Community Living Options™. Our CLOs are creative solutions to support adults with disabilities who want to live in a community of their choice. 
A key piece of our Community Living Options is our Community Builders. A Community Builder lives in their own apartment in the CLO. They provide support for their building's other residents as needed. For this blog, we asked a couple of our Community Builders to share what it's like to navigate their supportive role.
Daily Community Builder Routines
Before the stay-at-home policies, Aby Karottu, Community Builder for Harrison Street, started his mornings early. By 5:00 am, he would start a HIIT workout at Evanston Athletic Club. Then he went to work in Skokie as a special education teacher. When he came home, Aby checked in with the other CLO residents. Every day, he stopped by to say hello to his neighbors. After that, Aby played with his dog, hung out with friends, went on dates, rock climbed, or practiced a number of other hobbies.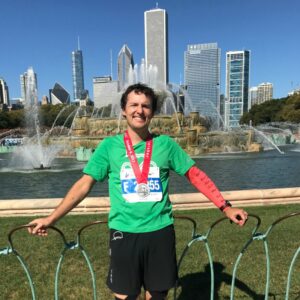 For Nick Connell, Community Builder at the Chicago Ave. House, the routine is similar. He and the other residents meet for a daily "hello and chat," and then he would spend time with his family, play soccer, or practice one of his hobbies. 
Community Builders play a crucial role in supporting the full lives that CLO residents develop. But as Aby shared, "I've come to recognize and embrace my role as a Community Builder most closely to that of an overly-concerned neighbor."
Challenges for Community Builders
When families in our New Futures Initiative learn about Community Builders, they often wonder how they could find anyone who would accept the role. The family members sometimes ask how Community Builders can maneuver the challenges.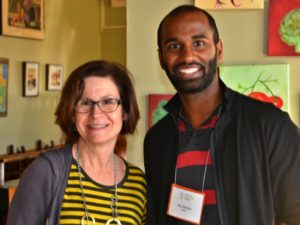 Nick and Aby each face different challenges. For Nick, scheduling and communication can be challenges, "especially in the beginning of forming our community." These are two challenges that can only be overcome with practice.
As a special education teacher, Aby had trouble taking off his "teacher hat" in the beginning. Since then, he says he has grown into the role of Community Builder. "While I'll always be an educator at heart, I also honor my very unique role, not as an authority figure, but rather as a role model who's just here to lend a caring ear and a helping hand."
Truthfully, the role of Community Builder can be demanding. But there are people who believe in community and are happy to support adults with disabilities in their daily lives. 
Finding Joy in Community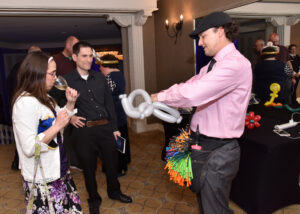 Though Community Builders face many demands on their time, they find joy in the small interactions the community shares. They see each resident every day. Though the Community Builder may offer support and advice, they also receive support in their lives. 
For Nick, his daily check-ins have brought unexpected connections. "Currently one of my neighbors and I share ingredients and recipes, and then we share whatever we bake or cook. I greatly appreciate the opportunities to give and receive." 
"I appreciate the intimate nature inherent in living amongst the residents I serve. As such, I greatly value the relationship aspects of what I do," Aby says of the joys he finds as a Community Builder. "Because of the journeys I've experienced, I have a type of joy that's been unparalleled in my life."
Finding Community Builders
Though becoming a Community Builder is certainly not easy, "it's a wonderful way of life," according to Nick. When families ask how we find folks willing to do that work, we share that it's not always easy. 
Being a Community Builder is both challenging and joyous. It requires dedication and the willingness to support individuals with disabilities. Agreeing with Nick, Aby says, "It's not a job. It's a lifestyle. If you value service, compassion, and community, it will be worth it."