As Americans rethink the ways we manage education, concepts like self-determination are making way for individualized instruction. Many teachers are beginning to ask themselves, "How can I teach self-determination to my students – especially students with disabilities?"
This question is crucial for all students, but for students with disabilities, navigating the world with critical self-determination life skills makes a whole world of difference. In fact, according to a University of Illinois article, students with disabilities in self-directed learning programs are more likely to achieve academic and non-academic goals! Find out how you can incorporate these concepts into your curriculum.
What Are Self-Determination Life Skills?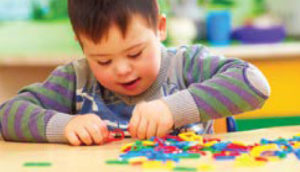 Self-determination skills are developed through a combination of skills, knowledge, and beliefs. Those pieces of self-determination help people engage in goal-directed, self-regulated, autonomous activity. Learning how to act in a self-directed manner empowers every student who gains these skills.
There are many components of self-determination that facilitate self-directed goals for students. Teachers might use curriculum that focuses on decision making, problem-solving, goal setting, self-awareness, and self-advocacy, among others. We can all imagine that dedicating time to skills like these benefit personal development, but how can teachers implement these concepts into their classrooms?
Approaches to Teaching Self-Determination Life Skills
While soft skills are difficult to measure, teachers should be able to fit these skills into existing curriculum with just a little extra effort. Some ideas to include this type of life skill involve:
Invest time in facilitating student-driven IEPs and transition planning, and check in with students to make sure they are prepared for meetings. All students are capable of being involved in planning their life.

Teach skills and enhancing knowledge of skills like problem-solving and decision making directly, creating lesson plans around these types of skills.

Embed instruction into general curriculum. For example, in any lesson plan, a teacher can begin by asking students to create a goal. In the next step, students will take action toward their goal. By the end of the lesson, students can reflect and revise their goal, learning about self-awareness.

Dedicate time to person-centered planning, an approach to plan and develop supports to help a student or any person achieve their goals.
Teaching Self-Determination Through Adulthood
These tips are great for teachers who can shape the future for students with disabilities, but what about adults who have already transitioned out of school programs?
Our My Full Life™ online application includes planning, skills inventory, and life skills curriculum designed to support individuals with disabilities living independently in the community. For educators and agency professionals interested in learning more, please visit this page and contact us for a demo.