On November 3, 2020, Americans will vote for their next President. The choice will come down to our incumbent President Trump and the Democratic challenger. 
Between now and then, there are a lot of other decisions to be made – like who the Democratic candidate will be. Throughout the primary process, Americans in every state get to vote for their choice to represent the Democratic party. In Illinois, our primary is on March 17. 
Many voters feel this election is the most important of our lifetimes, but that's far from the only exciting aspect of Election Day 2020. In 2018, people with disabilities came out to vote in record numbers, surging by 8.5%. In 2020, many organizations hope to increase the turnout of voters with disabilities even more. 
Keep reading this blog to learn more about registering to vote & learning about the candidates in Illinois.
How To Register To Vote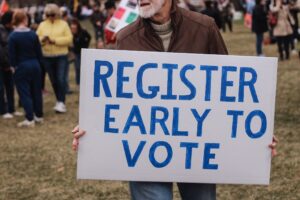 In Illinois, you can register to vote by mail until the February 18th deadline. If you are able to register online, the deadline is extended to February 29th. But first, there are several requirements. Illinois voters must: 
  – Be a U.S. citizen
  – Be 18 by November 3, 2020
  – Live in your voting precinct for 30 days before the election
  – Not be serving jail time as a result of a conviction
  – Not claim the right to vote anywhere else
If you meet these criteria, then congratulations! You can register to vote. The next step is to start Illinois' online voter registration application. The application will ask you for some basic identifying information such as:
  – Your State ID/Driver's License
  – Your name
  – The last 4 digits of your Social Security number
  – Your birth date
  – And your address
And that's how you register to vote! If you are ever encountering problems or need support, you can contact the Board of Elections. Life skills tutors can also support you in registering to vote.
How To Be An Educated Voter
Now that you're registered to vote, it's time to make some educated decisions about who you cast your ballot for. To become an educated voter, it's necessary to learn about the candidates to see who would represent you best and work hard for your interests.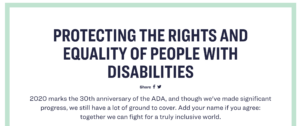 Almost all of the major candidates for the Democratic nomination have drafted disability policies and plans – for the first time. As a voter with disabilities, you will want to research these plans, but make sure that you are also researching other issues & local ballot initiatives too. The following major candidates have plans for people with disabilities on their websites:
– Mayor Pete Buttigieg
– Senator Amy Klobuchar
– Senator Bernie Sanders
– Senator Elizabeth Warren
– Andrew Yang
The League of Women Voters has general information about what will be on your ballot and some research about the candidates. Check out their site for important dates, including when early voting begins and what is on your ballot. 
Finally, the AAPD's Voter Resource Center includes information specific to disability issues. They have also teamed up with National Council for Independent Living (NCIL) for candidate questionnaires regarding disability issues. Only Pete Buttigieg, Bernie Sanders, and Elizabeth Warren have completed it; read the candidates' responses here.
How To Vote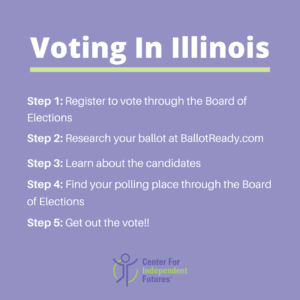 Illinois' early voting period runs from March 2 – March 16. You can also vote on election day, March 17th from 6am – 7pm. Use the Board of Elections' Voter Registration Lookup tool to find your polling location.
In Illinois, we have what are called "closed primaries." This means that in order to vote, you need to pick a party ballot. You can choose between the Republican or Democratic ballots when you enter your voting location. 
Once the poll workers have found your registration information and verified you are at the correct location, you will choose your ballot. After choosing your ballot, you can begin making your choices. 
(PRO TIP: You can download your ballot beforehand from BallotReady and make your choices ahead of time! Just print it out, research the options, and bring it with you to your polling location.)
Poll workers will be able to assist you as necessary, depending on the type of voting machines your location has. Don't be afraid to ask for help!
Being an Active Citizen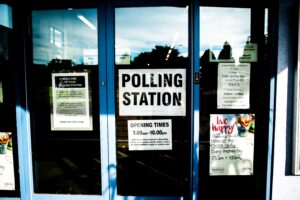 Now that you're a registered, educated voter, what are the next steps you can take? This is the time to choose your candidates and then volunteer! You can call, text, or knock doors to spread the word about your favorite candidate. 
So, between now and March 17th, how will you use your rights to become a voter with disabilities and an active citizen?
Looking for information about the 2020 General Election? This blog from July includes important information about voting by mail and how to research candidates.