Jonathan Shuman is a man who loves to travel the world, viewing the world in a positive and friendly way. He wants to share how he uses our philosophy of "create your journey" to live out his dreams. These are his thoughts from his trip to The Netherlands and Belgium.
Visiting Brussels, Belgium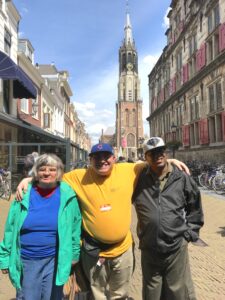 Today, my Search Beyond Adventures group went to Brussels in Belgium. We had to wake up at around 6 am in the morning, and we ate breakfast at around 7 am in the morning. Then, a shuttle van arrived in front of our Amsterdam hotel. We got in the shuttle van, and it took about 2-3 hours to drive in the shuttle from Hoofddorp, Netherlands, to Brussels, Belgium. 
When we arrived in Brussels, the first thing we did was go to a chocolate factory called the Belgian Chocolate Village. We toured the chocolate factory and we learned how to make chocolate from cocoa beans which in turn originate from carob trees. Then, the cocoa beans are harvested. They are dried to prevent moisture, and they have to go through several different processes including a quality check. The cocoa beans are then shipped around the world to factories and are then crushed and formed into chocolate and milk is optionally added to the chocolate. We also saw models made out of chocolate such as the Atomium and Les Arcades de la Cinquantenaire. 
For lunch, we went to a Mediterranean restaurant called Snack Simonis. I ate a chicken wrap sandwich with French fries on the side. After that, our group went into the city of Belgium and we saw the murals of famous Belgian comic strip characters such as Tintin and Asterix and Obelix. I also got my photo taken in front of the iconic Manneken Pis which is the statue of a boy with water coming out of his genitals but it's a fountain. We also did lots of shopping in Brussels. I bought a pack of stroopwafels that I'm going to give to my mother as a present and souvenir.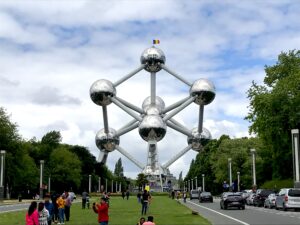 In the street, we danced to music by street musicians who did cover versions of songs such as "Despacito" by Luis Fonsi and Daddy Yankee. We also went to a cathedral and took photos inside and outside of the cathedral. Later, I ate a Belgian waffle with chocolate syrup on top. It tasted creamy and sweet and tender. 
For dinner, we went to a Belgian restaurant called La Rose Blanche. I ate meatballs in tomato sauce with French fries. It tasted tender and fresh. After our trip was over, we got back into the shuttle van and we drove for 2-3 more hours and we arrived back in Hoofddorp Netherlands. I had such a great time in Brussels, Belgium. It was pleasant visiting Brussels and speaking both French and Dutch.
Tomorrow our group will go to Delft to see a pottery store where the Dutch make blue and white colored pottery items such as plates and tablets, etc.
So for now, Au revoir and Tot ziens and have a goede vakantie.
Learning About Dutch Pottery
Today, we woke up at 7:00 in the morning and went downstairs to eat breakfast at 8:00. Then, we took the train to go to this little Dutch city called Delft. 
When we were in Delft, we went to this pottery factory where the Dutch make pottery that is colored blue and white. A guide gave us a tour of the Dutch pottery factory by a potter who showed us how pottery was made. Pottery can be made by molding a form out of clay, then it is kept in the refrigerator overnight. Then the artist paints the piece white. Next, the artist draws designs in black ink on the piece. After that, the piece is dipped into glaze which conceals the design. Finally, the piece is put into an oven where the glaze is removed and the potter paints the design blue and white. Voilà, there is a piece of pottery that's completed.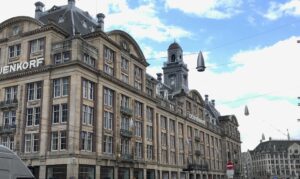 After we took a tour of the pottery factory in Delft, we ate lunch at a Mediterranean restaurant. I ordered a chicken wrap sandwich with lettuce ketchup and mayonnaise and French fries on the side. After lunch, we strolled through Delft, Netherlands viewing the canals, cathedrals, and even a horse drawn carriage.
Then later, around 3-4 pm, we went back to the Hampton by Hilton hotel and we relaxed for a bit. We tried to eat dinner downstairs but unfortunately the bar that only serves dinner on 5 days – not Sundays. Instead we ordered dinner from a Hawaiian poke restaurant, which is located near Amsterdam Netherlands.
Tomorrow we might do one last thing before we head back to Chicago, Illinois, the next day. Until then, Goodbye or Tot ziens as in Dutch and have a goede vakantie.
Last Day in Amsterdam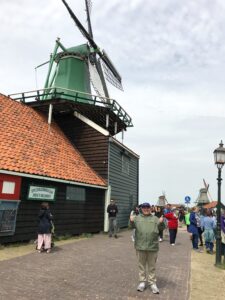 Today, we woke up at around 5 am and ate breakfast. Then, we went into the city of Amsterdam. Our first stop was to visit the Anne Frank House. This is the same house that Anne Frank and her family hid from the Nazis during World War II. 
When Adolf Hitler rose to power in Germany during the 1930s, the Frank family moved from Germany to Amsterdam where they hid in an apartment's secret room concealed by a bookcase. They couldn't make noises and they couldn't run water or flush the toilet or they would be found by the Nazis. Miep Gies was one of the people who helped Anne Frank and her family hide from the Nazis. 
In 1944, one of the neighbors eventually found the Frank family and Nazis imprisoned the family. The Nazis deported Anne Frank's family to Auschwitz Birkenau concentration camp. Anne Frank died in August of 1945. Her diary that she kept with her when she was hiding with her family still survives even to this day. 
This reminded me about human rights and the negative effects of racism and intolerance inflicted by the Nazis. It also reminded me that human beings are the most destructive forces ever to roam the face of the earth. Humans are also responsible for the evils in this world such as they litter, they drive cars which emit carbon and they destroy the planet and human beings kill other people and animals for food as well. I still think fantasy is better than reality. Which do you think is better: humans or dragons? I honestly think dragons are better than humans.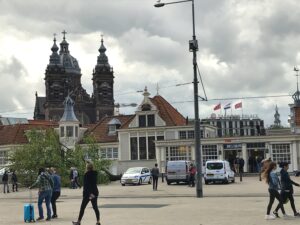 After we took a tour of the Anne Frank house, we took a cruise ferry tour on an orange ferry along the Prinsengracht canal. We saw the architectural buildings and we learned about the history of the Netherlands and Amsterdam. During the 17th century, there was a Golden Age in the Netherlands when painters such as Jan Steen, Vincent Van Gogh, and Johannes Vermeer flourished.
After that, we took the Amsterdam tram from the city of Amsterdam back to Amsterdam Centraal and from there we took the train to Schiphol Airport. Finally, we took a shuttle bus back to the Hampton by Hilton hotel.
Tomorrow, Tuesday June 11, 2019, we have to wake up at around 4:30 am because our flight leaves at 9:05 am back to JFK airport. Then I will fly into Chicago from New York City.
I want to say Goodbye or Tot ziens to Amsterdam & Brussels. It has been a pleasure visiting. I'm going to miss you two. I hope to see you again someday in the future. Dank je wel.
Have a goede vakantie.
View Jonathan's England and Ireland trip journals, starting with part 1. You can support participants to "create your journey," this year's theme for our spring event, by attending SPARK on Saturday, November 7th.