To reach more individuals with disabilities and help them lead full lives, we work to get our tools for teaching life skills into the hands of creative transition teachers. After seeing a presentation by our school and agency experts, teachers at Lake Zurich High School knew that our My Full Life™ curriculum was the resource they needed.
Visualizing a Full Life

Using our Full Life Model™, transition teachers at Lake Zurich help their students set goals and identify obstacles. "I love the visual representation of all of the areas of a full life," said Annamarie Bader, special education teacher. "I feel like this gives us the structure to help students identify the goals they will need to work on to have a full life. It helps us concentrate on each student's hopes and dreams."
Annamarie taught in a self-contained classroom in California for 15 years before returning to work in Lake Zurich's transition program. In the Lake Zurich transition program for students with disabilities, students spend half of their day in the classroom learning life skills like cooking and goal setting. The remaining half of the day is typically spent out in the community, instead of in the classroom.
"Our students prepare for their futures by going out to the grocery store, eating out at restaurants, and doing some recreational activities. Getting students out into the community, and having access to those resources is beneficial for their goals. Other times, students go out to job sites to gain work experience with a job coach. We're pretty busy!"
Teaching Life Skills for Independence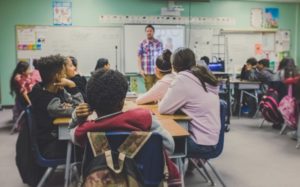 The Independent Futures' curriculum, My Full Life, equips transition teachers with the resources they need to save time. With these lesson plans, learning is more targeted to students' specific needs. "When you are teaching life skills, you are pulling material from everywhere," Annamarie said. "My Full Life helps me keep track of my students' accomplishments."  
With our online application, Lake Zurich students may use computers or mobile devices to engage in the learning process, set specific goals, create action plans, and track progress. "Because the curriculum is online, they can easily access it on their iPads," observed Annamarie. "It's so great for everybody, but specifically for our students who are visual learners." According to Center for Independent Futures' School and Agency Consultant Marney Orchard, "It is great to see the young adults at Lake Zurich discovering new things about themselves and making plans for their futures."
Impacting Students' Futures
All of the components of My Full Life result in real improvements in students' lives. Annamarie can use My Full Life to track IEP goals, conduct skill assessments, and see each component of full lives. And students can take this information with them into their future. "It's helpful to have something for students to take with them after leaving the program at 22," Annamarie explained.
Asked if she has seen its influence directly, Annamarie explained, "I absolutely have! It all starts with focusing on hopes and dreams. I am working with a student who wants to take college classes. Using the self-determination, goal setting, and action planning resources, he is advocating for his dreams."