Leading up to the 2019 Chicago Marathon, what do you think Team CIF's first timers and seasoned runners have in common? 
It's not the long training hours or researching tips for pre-race nutrition. It's not avoiding injuries or even a passion for running. While these things are all important for marathon runners, the thing our team has in common is even bigger. 
The team is linked by a common desire to support individuals with disabilities living independently and building the lives they want.
Fundraising For Independent Futures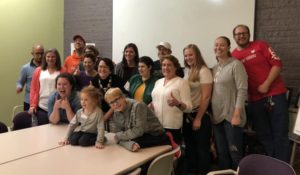 Every member of Team CIF is responsible for raising at least $1,250 as part of being on a Chicago Marathon charity team. Each member does this in their own way: some reach out to coworkers and family, some host events at supporting restaurants, and some host contests among their friends.
Why do these runners commit to raising so much money to support Independent Futures? Why run a marathon at all? Because of the impact our programs have on the lives of our participants.
Over the course of the 17 years that Independent Futures has supported individuals with disabilities, our tutors have taught hundreds of distinct life skills to help participants live independently. Our New Futures Initiative, a housing training workshop, has helped 200 individuals move into the community of their choice. Our Change Champions programs have built inclusion into the fabric of community places, like the library and YMCA.
The members of Team CIF are training hard and raising over a thousand dollars each because we are leaders in helping individuals with disabilities achieve their dreams. But the team and our community need your help.
What Can You Do To Help?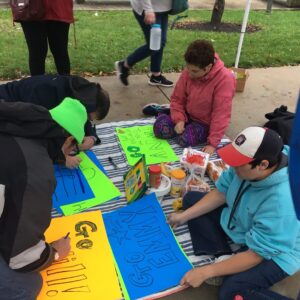 After reading about some of our amazing team members, you may find yourself thinking, "I want to get involved! But how?" Luckily, there are many ways you can support the team! 
First and foremost, the best way to help the team is to donate! Visit the team's Crowdrise page to check out the team. Then you can donate to an individual runner, or you can donate to the team as a whole. Unable to donate right now? Try sharing the Crowdrise page on social media and asking your network to support independence for individuals with disabilities too.
Next, you can send words of encouragement to the team coordinator, Connor. She will pass along every bit of positivity you have for the team!
Finally, join us at the Charity Block Party on Sunday, October 13! From about 7:00 am – 1:00 pm, Independent Futures participants, staff, volunteers, and family of the team will be cheering on runners at mile 13. Look for us underneath our tent in case of rain! You can RSVP on Facebook.
Not ready to get involved this year but feeling inspired? You can also email Connor if you are interested in running for the 2020 Chicago Marathon. Looking for more reasons on why to run a marathon? Team members receive running support and help fundraising, plus free tickets to our fall fundraiser Brews & Bites and more. Start getting involved today!