The end of summer is approaching, but at Center for Independent Futures, we will be leaving summer with a bang! This summer, we hosted two summer camp options for Evanston Township High School Transition House students. The first, Life Tools Camp, we have been offering for eight years, and the second is a five-week Transportation Camp.
Community Resources at Life Tools Camp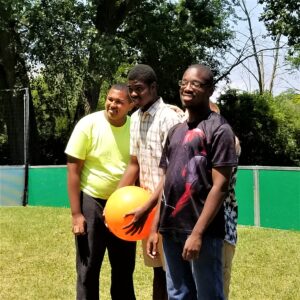 Cynthia and Sharon have run Life Tools Camp since the beginning of this program. Between the two of them, they have yet to miss a year! According to Cynthia, at Life Tools Camp, "We spend time in the community each day, learning safe routes to walk to some destinations and taking the bus or Metra to others."
As a result, Life Tools Camp students were able to visit and learn about community resources. The students learned from ComEd Ambassador Brian about energy use and conservation, plus a former student from the Transition House met with the campers and discussed how the experience impacted them. In addition to these activities, the group visited the Evanston Public Library, walked to the Evanston Ecology Center, and even took a trip to downtown Chicago – a first for some students.
From learning to playing, Life Tools Camp is an opportunity for students to receive hands-on training in critical life tools while also getting to know their community.
Discovering Transit with Transportation Camp
We hosted a new summer camp too: Transportation Camp. Over the course of five weeks, students from the Transition House met with Sharon and Laura on Fridays.
Each week, they met at the Center for Independent Futures office, and then they went over the information they needed to know for the day. They were asked questions such as, "When do you use your Ventra card?" and "Which stops will we get on and off at today?" The camp covered transportation via Metra, CTA train or bus, and navigating the Evanston area.
We were excited to provide this opportunity, and we hope to offer similar Transportation Camps in the future.
Grateful for Our Community Supporters

We want to thank all the Evanston community for welcoming our campers throughout these programs. In addition, we want to thank the Evanston Community Foundation for graciously funding our new Transportation Camp opportunity.
We also want to thank Evanston Township High School for partnering with us to offer life skills programming to their Transition House students. To learn more about our work in schools, click here.