Transition coordinators and special education professionals encounter different types of problems in teaching every day. Students with disabilities face different obstacles than their peers. Some of those struggles include advocating for themselves through IEPs and discovering what their next steps will be after high school.
Space to Share Special Education Resources
To help educators navigate these issues, Center for Independent Futures has started a brand new LinkedIn group this week! By joining Special Education: Sharing Ideas & Resources, special education professionals will be entering a community designed to facilitate discussion around topics like these.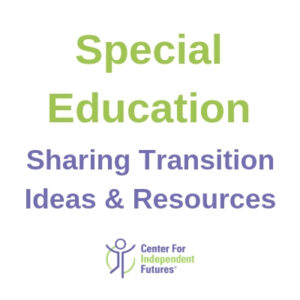 This LinkedIn group is open to any and all school staff seeking to create inclusive learning environments for all students, and it can be found in the "featured groups" section of our LinkedIn profile. In this group, we will operate with the understanding that every student deserves access to all opportunities of a full life, regardless of ability, race, gender, or sexuality.  
Our hope is that this group will become a place where educators can brainstorm with other educators and share resources with each other. We will brainstorm discussion topics from time to time, and when we find resources on transition curriculum, IEPs, or classroom inclusion, we will pass those onto all of the group's members.
When someone joins the group, we don't want them to hesitate to start discussions about issues. A key step in helping students achieve their hopes and dreams is identifying obstacles and developing plans to address them. Now, educators in this group can apply that strategy to classroom problems they have and crowdsource the solutions!
Find Out More About LinkedIn Group
You can join the group by following this link or by clicking on the group under "featured groups" on our business page. For more information about the group or help joining, email Connor Larsen or call (847) 328-2044.