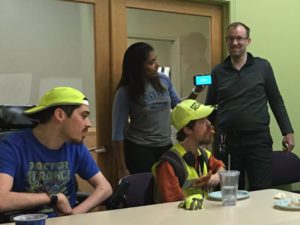 The Advisory Council and Auxiliary Board's most recent gathering wasn't a typical meeting. Instead, the office was full of activity as some acted out flipping a pancake or figure skating and others tried to get their teammates to guess movie titles. The two groups came together for pizza, charades, and laughter, creating new connections and strengthening existing friendships.
The Advisory Council and Auxiliary Board both support Center for Independent Futures' mission through fundraising and awareness efforts. The Advisory Council is a group of Center for Independent Futures participants, while the Auxiliary Board is made up of young professionals. The groups plan separate and collaborative fundraisers and social events and work together to support SPARK, our largest fundraiser.
If you're interested in meeting members of the Auxiliary Board or Advisory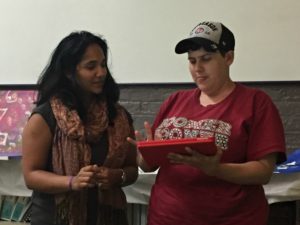 Council, join us for dinner on Tuesday, August 8, at 6:30 p.m. at Evanston's Potbelly Sandwich Shop (603 Davis Street). That night, a portion of all sales will be donated back to Center for Independent Futures to support our Bank of America Chicago Marathon team. Along with other members of our community, the Advisory Council and Auxiliary Board will gather for dinner to socialize and support our runners.
To learn more about how to get involved with either group, contact us at center@independentfutures.com or call (847) 328-2044.